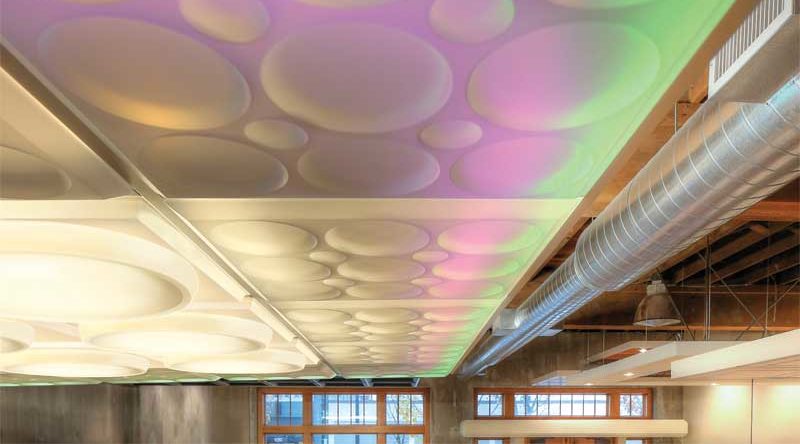 by Ed Davis, David Condello, and Michael Chusid, RA, FCSI, CCS
Human sight evolved to optimize vision under diffuse sky radiation, and this remains the best illumination conditions for most of our activities. Luminous ceilings are an attempt 
to reproduce the qualities of such overhead lighting in an indoor environment.
A luminous ceiling system is designed to provide a substantially uniform level of illuminance throughout the room below. The entire ceiling is, in effect, one large luminaire consisting of a continuous surface of light-transmitting material of a diffusing or light-controlling character, with light sources mounted above it. (This definition is based on American National Standards Institute/Illuminating Engineering Society of North America [ANSI/IES] RP-16-10, Nomenclature and Definitions for Illuminating Engineering. Opaque ceilings with indirect lighting can also provide uniform illuminance, but do not meet the IES definition requiring transilluminated surfaces. Open-cell ceilings are similar to luminous ceilings in that light sources are located above ceilings, but the light sources remain visible when the ceiling is viewed at a high angle, the visual effect of an illuminated surface is lost, and the ceiling does not create the psychological impact of a physical boundary to the room.) A complementary definition recognizes a luminous ceiling is also an interior finish system with a light-emitting surface. As such, the ceiling has to meet architectural and interior design criteria including fire safety, acoustic, and other specification considerations.
While there are 19th-century antecedents, luminous ceilings are an innovation of the Mid-Century Modern era, and were spawned by postwar availability of plastic and fluorescent light, as well as the growing popularity of noise-reducing ceiling panels and suspended ceiling grids. (See, for example, US Patent 2710335−Light Diffusing and Sound Absorbing Unit; H.K. Wong, Inventor; published June 7, 1955 at www.google.com/patents/US2710335.) They were perfectly suited for the clean lines, uncluttered surfaces, and minimalist volumes of Modern architecture. Figure 1 compares conditions in that period to current trends, offering insight into why the luminous ceiling concept is currently enjoying both a renaissance and a reinterpretation.

From the outset, thin sheets of thermoformed rigid vinyl have been the most widely used material for luminous ceilings. For example, a paper presented at a 1955 conference sponsored by the National Academy of Sciences says, "With the luminous ceiling, we have a new form of lighting providing a major environmental influence upon the building inhabitant."
Regarding vinyl, the presenter states:
The tests showed that a rigid vinyl copolymer exhibits outstanding light stability and uniform diffused light transmission, as well as a high degree of dimensional stability, chemical resistance, and tensile and compressive strength. This rigid sheet is inherently tough, possesses excellent aging properties, and offers an ease of fabrication and handling suitable for luminous ceilings.
The paper also points out the material meets fire safety requirements and controls glare before concluding, "the appearance of the luminous ceiling is outstanding. It provides a light and airy interior which seems very attractive. All in all, the luminous ceiling has created a pleasing and practical office environment." (Other materials that can be used for luminous ceilings include various thermoplastic and thermoset plastic sheets, tensioned fabric and vinyl systems, metal panels with large percentages of perforated open area, extruded multi-cell plastic sheets, light-transmitting resin panels, glass, and even paper. While each material has unique characteristics and limitations, the plethora of options ensures there is a luminous ceiling system to satisfy almost every building's design criteria.)
The attributes described in the 62-year-old paper have withstood the tests of time, and there have 
been many small, incremental improvements to thermoformed vinyl ceiling panels. (For more, see the September 2014 article in The Construction Specifier by the authors.) However, the evolution of luminous ceilings has accelerated since the turn of the millennium in response to new 
light sources, ceiling panels with a range of light transmission levels, patterned or textured ceiling surfaces that alter the flow of light, and contemporary aesthetic sensibilities.
The term 'transluminous' is suggested to expand traditional concepts about luminous ceilings and embrace the full range of light-transmitting ceiling designs. While 'luminous' implies that light emits from, or is present on, a ceiling's surface, the term 'transluminous' recognizes a wider range of architectural effects based on what is above, within, and beneath light-transmitting ceiling panels.