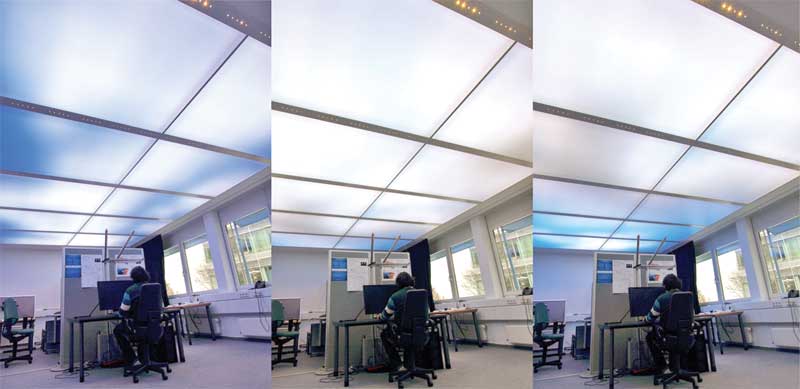 Kelly opines, "Visual beauty is the interplay of all three kinds of light." To see how his thesis might apply to transluminous ceilings, one may consider a hotel that uses thermoformed ceilings throughout the facility, but changes lighting schemes to differentiate spaces and set the scene for various events. For example:
1. A transluminous soffit fills the porte cochère after dark with an inviting pool of light. By day, a skylight above the panels prevents the entry from feeling like a dark tunnel.
2. Stepping into the lobby, opaque ceiling panels are illuminated by pendant lanterns made by assembling transluminous panels into cubes.
3. To one side of the lobby, the registration desk is identified by a traditional luminous ceiling with bright, uniform, and diffuse lighting.
4. On the other side of the lobby, frosted panels are animated by changing displays of colored LEDs, projected images, and an above-ceiling mirror ball.
5. The ballroom is ready for any event; it has luminous ceiling panels, down lights, and indirect lighting from chandeliers and cove lighting. Strategically placed clear panels allow spotlights to be installed above the ceiling. The several types of lighting can be used individually or to create hybrid lighting schemes.
6. Hybrid systems are also used in the dining room to provide appropriate lighting for breakfast, lunch, dinner, and after-hours seatings.
7. The glare from sunlight streaming through skylights above prefunction areas is cut with frosted ceiling clouds that are artificially illuminated at night.
8. Meeting rooms on the south side of the building use luminous panels as light shelves.
9. Public toilet rooms have opaque panels in the center of the room framed by wall-washing luminous panels over both lavatories and toilet fixtures.
10. Merchandise in the gift store sparkles due to LED strip lights and spotlights located above clear ceiling panels.
11. Luminous ceilings in corridors ensure walls are evenly illuminated to make the hall feel more spacious and enhance the guest's sense of security. Clear transluminous panels outside guest room doors provide additional light to aid in identity and assist guests fumbling with keys and luggage. The building management system that turns on a room's air-conditioner when the guest registers also turns on a colored light to help guests find their rooms; the light turns off after the door is unlocked.
12. Guest rooms have a stylish transluminous wall that has been preprogrammed so guests can match the lighting color to the circadian rhythms of their hometowns to minimize jet lag. An app transforms the room into a party zone by manipulating lighting according to tunes on the guest's mobile device.
13. The ceiling in the guest toilet room will not be damaged by humidity or aberrant sprays from showers.
14. The same water-resistant character allows panels to be used in locker rooms, laundries, and other back-of-house areas, as well as over pools and spas. The vinyl panels are nonporous, cleanable, and comply with Food and Drug Administration (FDA) and U.S. Department of Agriculture (USDA) requirements for kitchens.
You may be thinking, "Wouldn't it be boring to use the same ceiling all over the building?" Many people feel the same way about ubiquitous mineral fiber ceiling panels. However, transluminous thermoformed ceilings facilitate endless variations in panel style, light transmission levels, and illuminance.