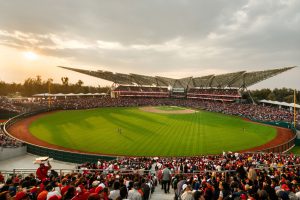 Chicago-based international firm, FGP Atelier, has unveiled the cutting-edge Diablos Rojos Stadium in Mexico City, Mexico. The structure reflects the country's culture and history, but also integrates with the surrounding community.
Mexican-born architect Francisco Gonzalez Pulido was tapped by Rojos Alfredo Harp Helú, owner of the baseball team Los Diablos or the Red Devils, to design the premier baseball stadium.
"Estadio Diablos is much more than a stadium, it is Mexico's ballpark," said Gonzalez Pulido. "We challenged ourselves to create a stadium that would serve as a social and cultural center for years to come."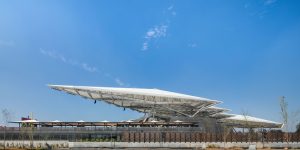 Since the stadium is located adjacent to a former Olympic Park, Gonzalez Pulido worked with local architect Alonso de Garay of Taller ADG to establish a cohesive flow. Upon entering the stadium, visitors are confronted with six truncated pyramid-like forms clad in indigenous volcanic rock. These form the base of the structure while also providing outdoor terraces at the higher level away from the arena food stalls and socializing. The shape and materiality of the forms, which recall ancient Mesoamerican temples, serve as a reminder of the country's history.
Overhead, the roof, shaped in the form of a devil's tail to reference the home team's name, is composed of steel wrapped in a polytetrafluoroethylene (PTFE) textile material.
Cranes were employed to lift the massive truss structures into position while digital scanning techniques secured precise alignment. It was also designed to collect rainwater. The stadium itself exhibits the feel of an open-air amphitheater because of the 'floating' trident spear roof.
Additionally, the pyramid-like structures were designed to integrate a public plaza circling the stadium. The plaza has various objectives—it is meant to be used year-round as a market for community members to sell their goods.