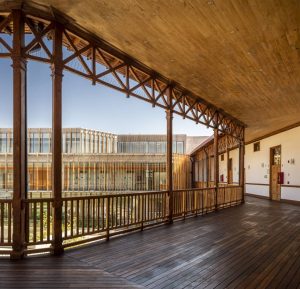 International architecture firm luis vidal + architects has been awarded a Merit Award for Renovation and Adaptive Reuse for its Matta Sur Community Center + Family Health Centre (CESFAM) project. The award was given by the American Institute of Architect New York State (AIANYS).
The Matta Sur complex, located in the capital of Chile, consists of two buildings located within the same plot. The former Metropolitan Lyceum of Santiago, built in 1891, was restored for social uses, such as a nursery school, gym, and auditorium. The second component is a new build construction that accommodates the CESFAM, a public primary healthcare center.
"The city that takes good care of its cultural heritage is the city that listens to its past without neglecting its future. Those were our cornerstones for the Matta Sur Complex project," said Luis Vidal, president and founding partner at luis vidal + architects.
luis vidal + architects proposed an extensive renovation plan for the 5481.2-m2 (59,000-sf) school building. Steps included the replacement of all damaged structural elements, the installation of a new red metal roof, and the implementation of a heating and cooling system.
The team also cleaned and painted the concrete facades, replaced floor tiles, and installed new wooden balustrades. The team preserved distinctive features of the building, such as the open-air corridors that run along the interior elevation overlooking the courtyard.
Additionally, the project included the construction of a central public plaza. The extension provides the community with an open space to gather. The complete 5481.2-m2 complex was designed to create a 'balance'—what Vidal called a "contemporary, austere language"—between both the historic and new buildings. The space will be used by approximately 30,000 people per year.
Through a careful analysis of the preexisting building, combined with a deliberate design, luis vidal + architects worked to reveal the building's original architectural and aesthetic value. The design also emphasized spatiality, functionality, rhythm and unique use of natural light and façades.
The Matta Sur project was developed for Municipality of Santiago, in its commitment to the rescue and validation of abandoned heritage buildings for cultural and neighborhood use.
luis vidal + architects and all award recipients will be honored at a virtual award ceremony on October 27.