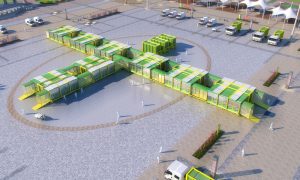 The COVID-19 Epidemic Prevention Hospital is in a park on Mincheng Road, Shanghai, designed by Professor Chenping Han and his team from School of Architecture and Design, China University of Mining and Technology.
The project was designed at the beginning of 2021 and is now under construction amidst fears of new variants. The party of the hospital design is Wuxi Environmental Sanitation Services. With a total construction area of 750.5-m2 (8078-sq-ft) the project consists of an isolation ward, medical staff work area, and functional areas for power, water, ventilation, and oxygen supply. The project core is the isolation negative pressure ward, with treatment, office, cleaning, ventilation, and energy as the auxiliary modules.
The project compresses architectural components into a module based on the prototype of a 6-m (20-ft) international standard container with a total area of 14.79 m2 (159 sq-ft) through a series of design methods such as integration, separation, movement, replacement, opening and closing, deformation, expansion, lift, and rotation. After deformation and expansion, the module covers an area of 76.15-m2 (820-sf.)
The hospital is equipped with negative pressure ventilation, sufficient daylight, separate channels for the infected and medical staff, a buffer area, toilets, and two standard isolation wards with four beds. The design meets the specifications and requirements of hospitals for infectious diseases.
Integrated module design is made for power, water, drainage, and ventilation to cope with the impact of building deformation on electricity, water, ventilation, and other equipment. Only lamps, display screens, and simple medical equipment will be connected and installed on site.