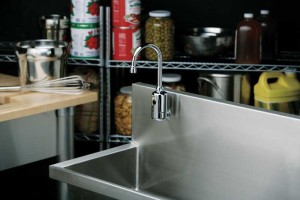 Retrofitting: manual and electronic options
There are now more options for retrofitting restrooms in commercial buildings, and plumbing selection needs to strike a balance between existing products and emerging needs.
Retrofitting existing faucets with flow-restrictors or flow-regulators generally provides a low-cost and effective water-saving solution. These devices control flow rate by narrowing or adapting to the width of the opening through which the water is discharged from the faucet. Pressure-compensating aerators are the most common devices to reduce flow; adding an aerator that mixes air with water reduces usage by more than 50 percent.
Unlike residential faucets—with easily-damaged or removed aerators that negate water savings—commercial faucets typically have vandal-proof aerators. Another option for commercial installations is laminar flow control inserts for spout inlets. These models are useful for applications that require non-aerating faucets, such as healthcare facilities.
The faucets can also be installed with hot and cold water feed lines. Common flow rates include:
1.9 L/minute (0.5 gallons per minute [gpm]);
3.8 L/minute (1 gpm); and
5.7 L/minute (1.5 gpm).
Another retrofit option is to convert the existing faucet into a more water-efficient unit. There are generally two different directions this can take, depending on whether the retrofit is of a manual or electronic faucet.
The option for manual assemblies is to convert a standard two-handle faucet to a low-flow metering faucet. This easy conversion dramatically helps reduce water usage by taking advantage of component interchangeability.
For sensor faucets, a reduction of electricity consumption can be accomplished on certain models. In these cases, a self-sustaining power system is added to the existing electronic faucet installations. This conversion allows each faucet to generate its own power, eliminating the need for hard wiring or dependence on conventional batteries.
Taking a step further, combining low-flow outlets with precise electronic metering grants full control of water usage. Some electronic faucets can be managed from a handheld unit equipped with software that allows facility management to easily program, monitor, and troubleshoot the faucets.
When specifiers consider faucet options, they may only look at direct functions or price of the fitting itself. They may not think of how maintenance will diagnose, track, or reset faucets in the field, as well as other ongoing issues that can add cost and labor time.
According to Curtis Lunski, onsite management team member of the Pacwest Center commercial office complex (Portland, Oregon), maintenance is definitely an ongoing concern.
"We needed to provide faucet maintenance quickly and quietly with minimal disturbance to our tenants, while protecting their office decorum and privacy," he says.
The challenge was to quickly and discreetly maintain the building's 120 Americans with Disabilities Act (ADA)-compliant electronic faucets in offices of a diverse clientele of attorneys and stockbrokers. Lunski's team used a mobile device with proprietary software from the faucet manufacturer that enables precise, tool-free adjustments without physically touching the internal electronics.
A quick scan can tag problems, adjust cycle times or fittings, troubleshoot, obtain fitting data, and even order parts. Lunski especially appreciates how fast the battery strength can be checked and how easy it is to do above-deck replacements without shutting off the water.
Conclusion
As faucets and installations are a critical part of any building's infrastructure, getting educated about the new technological advancements of electronic faucets enables designers to use water efficiently, while also assisting with maintenance concerns. The latest electronic developments mean these benefits can be realized more easily than ever.
John Fitzgerald is Chicago Faucets' vice-president of marketing and has been with the company since 2006. He has more than 25 years of experience in business-to-business and business-to-consumer marketing and business management. Fitzgerald can be reached via e-mail at chicagofaucets@interlinegroup.com.