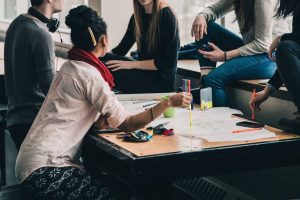 The labor shortage currently plaguing the American construction industry might see relief in coming years.
The U.S. federal government has reauthorized the Carl D. Perkins Vocational and Technical Education Act under the new title, the Strengthening Career and Technical Education for the 21st Century Act (H.R. 2353), or the Carl D. Perkins Career and Technical Education Improvement Act of 2018.
The amended bill seeks to improve the implementation of career and technical education (CTE) programs in schools by easing state and local requirements. The reauthorization gradually increases annual funding from $1.2 to $1.3 billion over six years, representing a nearly 11 percent increase over fiscal year 2018 funding levels, expanding the reach of CTE programs to ensure more students can participate.
The response from industry associations across the country has been overwhelmingly positive, with many saying the update is necessary to the future of CTE.
A statement from the American Institute of Architects (AIA) praised the amended language in the updated bill, which recognizes architecture as part of a science, technology, engineering, and mathematics (STEM) education.
"Passage of this legislation marks a significant victory for bipartisanship on Capitol Hill and for the architecture profession," said Carl Elefante, 2018 AIA president. "With employment opportunities in architecture projected to grow over the next decade, for the first time this legislation clarifies states can use federal career and technical education funding to modernize their architecture curriculums, which 49 out of 50 states have not updated in years."
The legislation received broad bipartisan support in the U.S. Congress where it cleared both the House and Senate without objection.
"It is encouraging to see Congress acting in a bipartisan way to pass a measure that will provide a long-overdue boost to career and technical education in this country," said Stephen E. Sandherr, CEO of the Associated General Contractors of America (AGC). "For too long we have chosen to push every student to college instead of providing them with essential and valuable skills. [This] vote marks a key milestone in rebalancing the nation's educational approach by offering students multiple paths to success."
The International Code Council echoed this support.
"We are excited to see the reauthorization of this important legislation," said Sara Yerkes, ICC senior vice-president of government relations. "CTE programs are an essential piece of our training and education system today, and this legislation will help support opportunities for future building safety professionals."
To read more about the amended bill, click here.