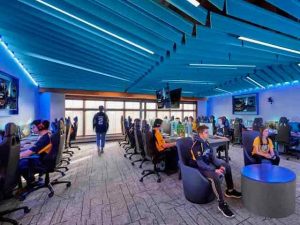 Architecture firm Svigals + Partners has transformed an old-fashioned classroom at Quinnipiac University in Hamden, Connecticut, into an esports hub, incorporating a faux ceiling and lighting elements to lend a cozy and connected vibe in a technically sophisticated environment.
The 77-m2 (830-sf) classroom, now serving as the College Esports Hub at a second-floor student center at the University's York Hill campus, transformed into a "digital den"—a den being the shelter for a family of bobcats, the university's mascot. The design team installed a dramatic three-dimensional faux felt ceiling to conceal the existing rustic architecture, with teal green, faceted blades adding visual interest and providing essential sound absorption qualities. The new ceiling also reduces the room's sweeping scale for a more intimate atmosphere by hiding from view the sloped ceiling plane and overhead mechanical systems.
New, dimmable LED linear pendants and wall-mounted fixtures around the room's perimeter support various light levels, allowing the chamber to be illuminated with a soft glow, enhancing monitor viewing and the gaming experience. Window shades add to the room-darkening attributes.
On the walls, Quinnipiac's blue and grey colors are complimented by the carpet's circuitry pattern that reflects the color scheme and the room's high-tech vibe.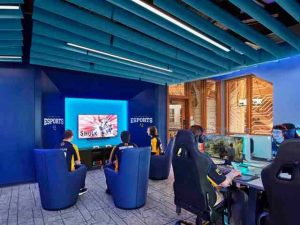 The venue's layout is divided into two zones. The first zone has 24 gaming stations laid out in four rows of six seats, to allow for requisite five-person team gaming, plus a substitute seat. Nearby, the second zone, housed in a cove, was designed to accommodate a four-person gaming console and monitor for club members. This zone features a teal felt accent wall complimented by a dark blue color and recessed accent lighting, aligning with Quinnipiac's branding.
Installer positioned mobile white boards, a lectern, and suspended and wall-mounted monitors as readily available supports for teaching and coaching. Throughout the renovation, the use of flexible design elements allows the room to be adapted as the esports team expands and to support academic functions.
"We designed the room as a contemporary, fun, and interactive place for team and individual esports and gaming," said architect Katelyn Chapin, AIA, Svigals + Partners associate.