Specification standards
The specification terminology for anodize finishes can be complex. At its simplest, specify a Class I anodic finish to meet AAMA 611, Voluntary Specification for Anodized Architectural Aluminum, for exterior wall cladding applications. AAMA 611-20 is the most current version of this industry-accepted standard published by the Fenestration and Glazing Industry Alliance (FGIA).
To codify the specification of anodized aluminum, the Aluminum Association has designated Architectural Class I and Class II in subcategory 'A' for anodic coatings. These classes pertain to the minimum dry film mil thickness of the anodic coatings. Class I has a thickness of 18 µm (0.7 mil) or greater, and Class II has a thickness of 10 to 18 µm (0.4 to 0.7 mil).
Coating thickness can be measured by an 'eddy current,' a nondestructive test instrument, or by cutting a cross-section of the anodized aluminum, mounting it in a slide, polishing the edge, and reading the coating thickness directly with a microscope.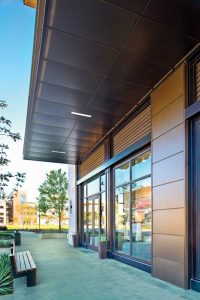 The Aluminum Association Designation System's (AADS) Class I and II should not be confused with the six types and two classes of anodic coatings described in the military model specification, MIL-PRF-8625 (formerly MIL-A-8625), used primarily for non-architectural applications.
Almost all exterior architectural aluminum applications, including cladding, require a Class I specification. The greater mil thickness allows the anodized aluminum to withstand continuous weathering and outdoor exposure with minimal maintenance. Class II coating is recommended for interior applications or light exterior applications that receive regularly scheduled cleaning and maintenance.
In accordance with AAMA 611, Class I anodize also is a suitable choice for coastal climates and other salt spray conditions, including locations were salt is used to de-ice roads and sidewalks. Finishes meeting this standard possess exceptional resistance to corrosion, humidity, temperature, warping, discoloration, and wear.
Sustainability guidelines
Along with its consistent appearance and high performance, the modern acid etch anodize process also is more environmentally responsible than old, conventional, caustic etch chemistry. Since a smaller amount of the material is removed, not only less waste is sent to the landfill, but also the byproducts are recyclable. As the acid etch process takes less time, it is less resource intensive and reduces the amount of water and electric energy required. Further, emissions associated with energy production and use are also reduced.
Anodize with acid etch chemistry creates a matte finish. This also has the advantage of helping to hide small defects in secondary (recycled) billet or die lines and scratches that may occur on the aluminum's surface.
Anodized aluminum is an inert material that is not combustible, poses no health risks, has a long life cycle, and is 100 percent recyclable. Since there is no degradation to the metal's inherent properties and strength, anodized aluminum wall cladding can be 'upcycled' as future building components or other products.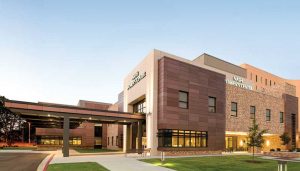 When specifying anodized aluminum for green building projects, material ingredient disclosure and documentation is increasingly needed. Simplifying transparency and evaluation, the International Living Future Institute (ILFI) offers a publicly accessible online database of building products and materials that have earned a Declare Label. Declare screens a product's ingredients directly against the Living Building Challenge (LBC) Red List and flags chemicals of concern.