Declare LBC Red List Free products align with other requirements within the ILFI's LBC and Core Green Building Certification and are recognized by the U.S. Green Building Council's (USGBC's) Leadership in Energy and Environmental Design (LEED) rating system, the International WELL Building Standard, and the U.S. Environmental Protection Agency's (EPA's) Recommendations of Specifications, Standards, and Ecolabels for Federal Purchasers. These requirements include ingredient disclosure thresholds, volatile organic compound (VOC) content and emissions, embodied carbon, and responsible sourcing.
A Declare Label as LBC Red List Free demonstrates full compliance with the highest level of LBC criteria. This means 100 percent of the product ingredients were disclosed to 100 ppm and confirmed they do not contain any Red List chemicals or applicable VOCs associated with the product. At least one finishing service provider has earned a Declare Label as LBC Red List Free for all its anodize finishes and colors.
Standard and specialty color range
Today, the consistent, matte finish produced by current, environmentally responsible anodize processes is preferred to the less consistent, higher gloss seen with the conventional, caustic etch process. The frosted matte appearance is more recognizable with darker colors and nearly imperceptible with lighter colors and clear anodize.
With quality control closely monitored by both computerized systems and experienced personnel, the finished material should fall within the acceptable color range. Anodize finishes meeting AAMA 611 will not differ in color by more than 5 Delta E. Some finishing providers deliver a narrower range of 1 to 3 Delta E. The range of variation usually is more detectable in lighter colors. Once installed, natural shading and lighting can also be perceived as tonal differences within a wall cladding system. To further minimize variation, one can disrupt side-by-side comparisons by using masonry or other materials to separate wall panels within a cladding system covering a large area.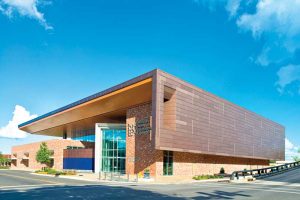 Anodize color is determined during the electrolytic color process that immediately follows the anodization. The anodized aluminum is immersed in a bath containing an inorganic metal, such as tin, cobalt, or nickel. The metal deposits in the anodic pores by means of electrolytic current. This sometimes is referred to as a two-step color process. Different colors result depending on the type of metal and the length the aluminum soaks in the bath. Darker colors are created by extending the immersion time and increasing metal deposition.
Standard anodize color range from light to dark:
∞ Clear
∞ Champagne
∞ Light bronze
∞ Medium bronze
∞ Dark bronze
∞ Extra-dark bronze
∞ Black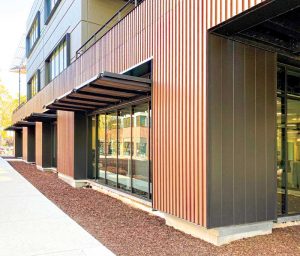 Expanding the traditional color palette for anodize, specialty colors include copper and bordeaux. These are achieved with a third step where the anodize aluminum first is immersed in an electrically charged tin solution followed by a copper bath. While real copper is used, the anodize finish produced will not develop a green patina as it ages or leave run-off stains on adjacent building materials. Beyond color, anodized aluminum cladding offers visual enhancement and design flexibility. For example, post-finish treatments can mimic the look of a brushed, pre-aged, vintage quality.
Since the metal is easy to shape and cut, it can be fabricated into almost any geometric form with straight or curved edges. Panels intended as a shade, screen, or scrim can be perforated into punched patterns using circular, rectangular, or other shapes of various dimensions and spacing. For signage and artistic accents, the aluminum may be crafted freehand by a skillful tradesperson or with a computer-guided cutting machine.