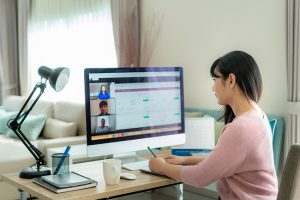 The CONSTRUCT 2020 virtual show sessions are now available on CSI's Learning Library to watch on-demand through December 31.
Over 30 units of CSI and AIA learning units from this year's virtual show are available for free for all CSI members. Not a member, sign up now to ensure you get up-to-date notices and discounted prices on other new learning content.
Join other architects, designers, specifiers, engineers, project managers, contractors, construction managers, estimators, owners, product representatives, and manufacturers for cutting-edge, solutions-driven learning opportunities by watching the on-demand virtual sessions at the comfort of your own home or office.
One of the highlights of the show was a panel discussion on 'The Future of Specifiers – The Way Forward,' which was chaired by Mark Dorsey, CAE, FASAE, CEO of CSI. Panelists discussed how the role of the specifier is changing, explored how construction documents will change in the future, what to consider in order to engage the next generation with the specification processes, and investigated how specification processes are maintained as specification documents change.