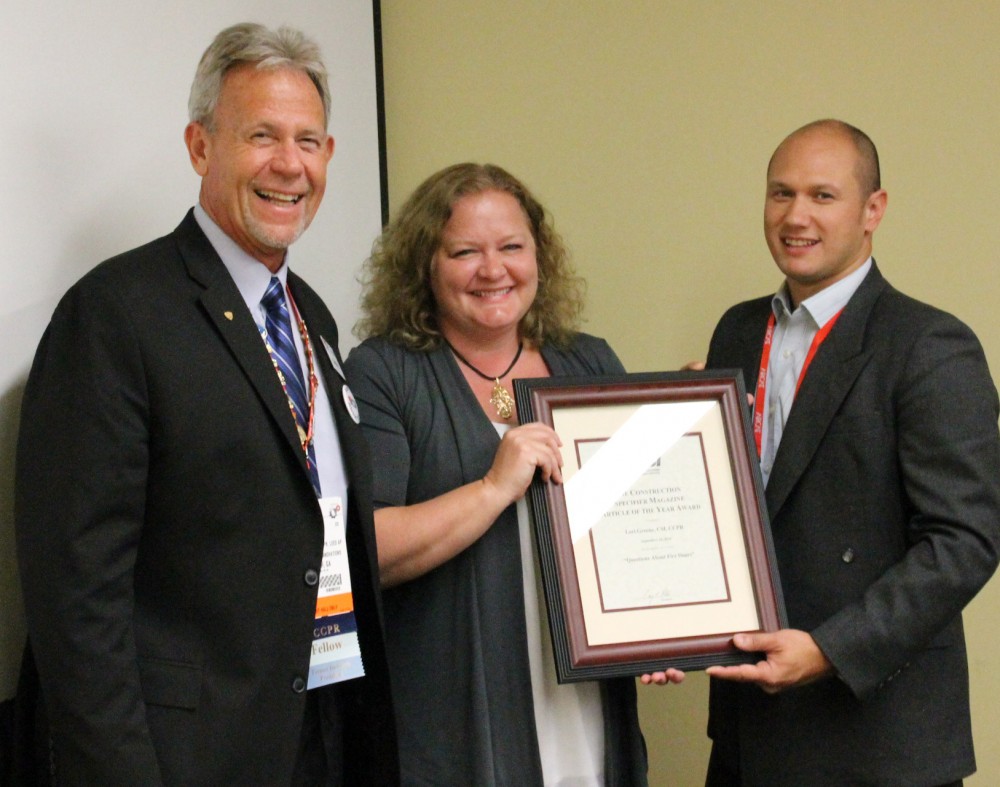 Earlier this month, CSI members from across the continent convened in the Charm City for CONSTRUCT. Billed by its organizers, Hanley Wood, as "the only dedicated national trade show and educational conference for the commercial building teams that spec and source building products," the four-day event also served as the 58th CSI Annual Convention, honoring and highlighting the institute's brightest and best volunteers. (We'll have more on some of those winners, along with new Fellows and Distinguished Members, in the November issue of the magazine and on the website.)
Every year, the conference strives for the perfect blend of networking (both professional and social), technical education, and association business. In Baltimore, those aspects took place in the seminar rooms, on the show floor at exhibitor booths, and at special events ranging from 'game-changer' presentations and annual general meetings to impromptu lunches and Inner Harbor dinner cruises.
As the editor of The Construction Specifier, I hosted the lunch-box panel discussion, "Aspirations vs. Reality: Conflicts in Sustainable Construction," in front of a packed house. (CSI's Kaitlin Solomon did a nice job of Storifying the event) Panel members Paul Bertram (director of environment and sustainability/government affairs for Kingspan Insulated Panels and CSI past-president), Brendan Owens (U.S. Green Building Council's [USGBC's] vice president of LEED Technical Development), Stephen Hess (attorney at Sherman & Howard LLC), and Doug Pierce (senior associate at Perkins+Will) discussed everything from Environmental Product Declarations (EPDs) and the evolution of green design to USGBC's recent announcement of cooperation with the American Chemistry Council (ACC).
The next day, I sat in on the opening session, as keynote speaker (and mad genius) Pablos Holman discussed the potential poised by seemingly futuristic technologies already available today—he regaled the crowd with tales of laser-frying mosquitoes and 3D printing concrete houses.
After his talk, I met up with CSI immediate past-president Casey Robb to surprise Lori Greene at the bloggers' panel and present her with the 2014 Construction Specifier Magazine Article of the Year Award for her October 2013 piece, "Questions About Fire Doors: Everything You Always Wanted to Know (But Were Afraid to Ask)." Much of the rest of the week was a blur—sitting in on sessions, learning about emerging technologies in the exhibit hall, and chatting with authors and friends from both CSI and Construction Specifications Canada (CSC).
Even as a bit of an outsider, you get a sense of the camaraderie amongst CSI members. Construct is an important event—not only for the professional development and technical talks, but for so much more. What was your favorite moment at the show this year? Was there a particular session or seminar that stood out? A chance encounter that yielded a new friendship or reaffirmed an old one? The band at CSI Night Out? And the big question: will we see you in St. Louis next September when CONSTRUCT happens all over again?