Construction begins for ECH Youth Development Center
November 6, 2021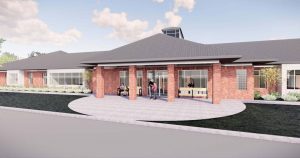 The construction of the new Every Child's Hope (ECH) William N. Dill Youth Development Center has officially started in St. Louis, Missouri, thanks to KAI Design, serving as the architect, and KAI Build, providing contracting services for the construction.
The new state-of-the-art center will be 1672 m2 (18,000 sf) and the design integrates a new model of care where families can receive all the treatment and services they need in a single location. ECH's current 70-year-old residential facilities have become inefficient and outdated meeting the needs of youth and families and the programs that ECH provides.
"Six years ago, we began the process of evaluating the effectiveness of our residential treatment program and embarked on a journey to determine the best treatment model to help children and families heal from significant trauma," said ECH CEO Michael Brennan. "I am confident that when this building is completed, it will be the premier facility in the state of Missouri, and probably around the country, in supporting traumatized children and families."
The new facility, to be built on ECH's St. Louis campus off St. Charles Rock Road, will accommodate short-term residential treatment for up to 30 youth, while creating a new access point on ECH's campus for hundreds of youth and families. The design includes 30 private bedrooms, family visiting rooms, and a safe and secure outdoor courtyard.
Based on best practices and building design research, the facility's design also focuses on reducing stress and anxiety, improving treatment outcomes and creating a therapeutic environment for both those receiving and those giving care.
The facility is expected to be completed in 2022.
Endnotes:
[Image]: https://www.constructionspecifier.com/wp-content/uploads/2021/11/BC_KAI.jpg
Source URL: https://www.constructionspecifier.com/construction-begins-for-ech-youth-development-center/
---