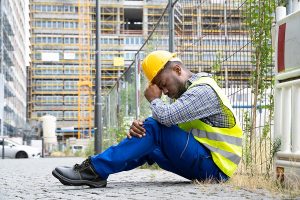 A Baltimore-headquartered construction firm and general contractor will pay $1.2 million to a class of former workers to settle a race harassment and retaliation lawsuit brought against it by the U.S. Equal Employment Opportunity Commission (EEOC).
According to the EEOC's lawsuit, the firm served as the prime contractor for the construction of the Google Data Center in Clarksville, Tennessee. EEOC's allegations state that from at least May 2018 through the fall of 2019, the firm subjected Black employees who worked at a construction jobsite to a racially hostile work environment and retaliated against two employees after they complained about race discrimination.
According to EEOC, the discriminatory treatment included referring to Black employees in a derogatory manner, while many porta potties and buildings on the jobsite were defaced with racially offensive graffiti and a noose was displayed in the workplace on Martin Luther King Jr.'s birthday.
The report by EEOC further stated that although Black employees reported these issues to the contractor several times, the company failed to investigate the complaints and instead fired two employees after they complained about the discrimination.
Such alleged conduct violates Title VII of the Civil Rights Act of 1964, which prohibits discrimination based on race and retaliation for complaining about discriminatory treatment. The EEOC filed the lawsuit (Case No. 3:21-cv-00753) in the U.S. District Court for the Middle District of Tennessee, Nashville Division, after first seeking to reach a pre-litigation settlement through its conciliation process.
Further, according to the press release, along with the monetary relief, the two-year consent decree, entered by Chief District Judge Waverly D. Crenshaw, Jr., requires the firm to incorporate a strict prohibition against racial graffiti, jokes, slurs, epithets, and hate symbols into its anti-harassment policy; assign an EEO liaison to each of its construction sites; and conduct semi-annual training on Title VII of the Civil Rights Act of 1964.
"Construction companies must take immediate steps to combat race discrimination on worksites. That action includes making sure its managers and supervisors are trained on Title VII and take prompt action at the first sign of trouble. It is our hope that the injunctive and monetary relief obtained through this lawsuit will serve as a reminder to other construction companies that the EEOC remains committed to eradicating race discrimination in the construction industry," says EEOC trial attorney, Roslyn Griffin Pack.