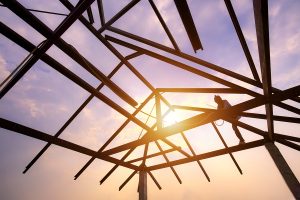 The construction industry experienced a surge in costs last month, which was largely driven by price increases for a wide range of building materials, according to data from the Associated General Contractors of America's (AGC's) labor department. Association officials caution that the Trump administration's newly-imposed tariffs on metal imports, such as steel and aluminum, will continue to affect project budgets.
"Price increases have accelerated for many construction materials in the last two years, with additional increases already announced and others on the way as soon as tariffs on steel and aluminum take effect," said Ken Simonson, AGC's chief economist. "Contractors will be forced to pass these cost increases along in bid prices, but that will mean fewer projects get built. Additionally, contractors that are already working on projects for which they have not bought some materials are at risk of absorbing large losses."
The producer price index (PPI) for inputs to construction industries—a measure of all goods and services used in construction projects including items consumed by contractors—rose 0.6 percent in February and a total of 4.4 percent over the past 12 months. The index increased by 4.2 percent in 2017, but just 0.9 percent in 2016.
"Many materials contributed to the latest round of increases," Simonson continued. "Moreover, today's report only reflects prices charged as of mid-February. Since then, producers of steel and concrete have implemented or announced substantial additional increases, and the huge tariffs President Trump has imposed will make steel, aluminum, and many products that incorporate those metals even more expensive."
Other products important to construction also experienced significant price increases over the past 12 months, according to AGC, including:
diesel fuel (38.5 percent);
lumber and plywood (13.2 percent);
gypsum products (8 percent); and
plastic construction products (4.9 percent).
AGC says ongoing tariffs may raise costs for firms, many of which are already locked into fixed-price contracts.
"Tariffs may help a few producers but they harm contractors and anyone with a limited budget for construction," said Stephen E. Sandherr, AGC's CEO. "The best way to help the U.S. steel and aluminum sector is to continue pushing measures, like regulatory reform and new infrastructure funding, which will boost demand for their products as the economy expands."
To read more about PPIs for construction, click here.