Contender design for World Expo 2027 highlights Minneapolis's natural resources
by arslan_ahmed | February 16, 2023 11:36 am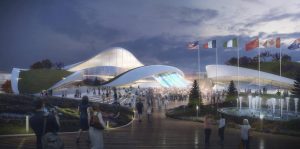 Integrated design firm, DLR Group, has been selected as the project designer to represent the U.S. in the bid to host the next World Expo in Minneapolis, scheduled for 2027. The U.S. is currently in competition with Thailand, Serbia, Spain, and Argentina for the opportunity to host the expo.
The firm's design is focused on Minneapolis's identity as the "land of the lakes," and uses water as a unifying element to promote health and vitality. By emphasizing the theme of health, the firm has incorporated elements of universal design to create an inclusive and welcoming development, which is well-connected to transit.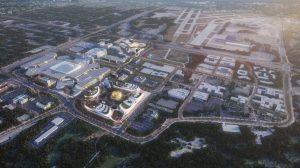 Connecting with nature can enhance physical health, well-being, and cognitive function. Therefore, the site plan for Expo 2027 will create a strong link between the existing nature along the Minnesota River and the Mall of America, to encourage this connection.
Visitors will be able to take a break from the hustle and bustle of the city by exploring the surrounding prairie landscape via the existing trails, which will be enhanced with a variety of experiences. These trails will intersect with entertainment and conference spaces and will ultimately lead to the Mall of America and its amenities, such as a waterpark, hotels, an arena, and exhibition center.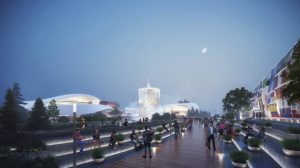 The Expo 2027 site has been planned with the intention of reversing the trend of modern communities, resulting in natural resource depletion. The site will be designed to capture, store, and recycle resources generated at the site or those that interact with it, with the goal of not only reducing the negative environmental impact, but also benefiting the natural environment using natural patterns and forms.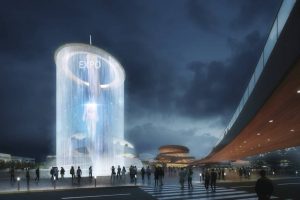 After the event, the proposed plan involves transforming the facilities into an innovation center, as well as providing housing and airport connectivity to promote better living in Minneapolis.
Endnotes:
[Image]: https://www.constructionspecifier.com/wp-content/uploads/2023/02/DLRGroup_2027Expo_2.jpg
[Image]: https://www.constructionspecifier.com/wp-content/uploads/2023/02/DLRGroup_2027Expo_4.jpg
[Image]: https://www.constructionspecifier.com/wp-content/uploads/2023/02/DLRGroup_2027Expo_3.jpg
[Image]: https://www.constructionspecifier.com/wp-content/uploads/2023/02/DLRGroup_2027Expo_1.jpg
Source URL: https://www.constructionspecifier.com/contender-design-for-world-expo-2027-highlights-minneapoliss-natural-resources/
---