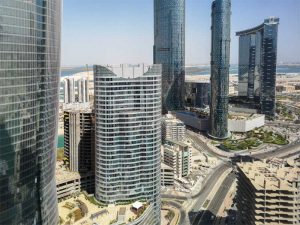 by Marcin Pazera, PhD
The goals of building fire safety and energy efficiency are compatible when industry stakeholders work together to make sure proper assemblies are designed, the correct materials are specified, and installers have the experience to combine the building design and materials properly in the field.
Building occupant safety is always a top priority. Incorporating redundant fire protection measures and strategies during a building's design and construction can minimize fire risks and limit the potential harm to people and loss of property when fires occur. While the cause and intensity of every fire is different, the fire-safety measures required by today's building codes (e.g. fire suppression systems, building egress requirements, fire-resistive assemblies, and construction material fire test standards) are tools professionals can use for a balanced approach to fire safety in built structures.
Key attributes of any building enclosure's design is the long-term performance of materials and assemblies. The way in which the materials are integrated into a building's envelope is critical to its overall performance including fire safety. Within a fire-resistive assembly, standards do not rely on individual component fire tests because materials can behave differently when combined and exposed to fire.
Building code overview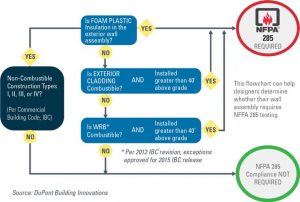 The International Code Council (ICC) describes building codes as "a jurisdiction's official statement on building safety. They are a set of minimum standards to ensure the health, safety, and welfare of the people. Codes address all aspects of building construction—fire, life safety, structural, plumbing, electrical, and mechanical. The regulation of building construction can be traced through history for more than 4000 years. Through time, people have become increasingly aware of ways to make buildings safer for occupants and avoid catastrophic consequences of building-construction failures."
The construction codes and standards used today were built on the experiences and lessons learned from large fires and other failures that resulted in significant losses of life and property. With over a 100 years of diligent work and thousands of contributing members, more than 300 codes and standards have been developed through the research, training, outreach, education, and advocacy efforts of groups, including the National Fire Protection Association (NFPA) and other global bodies like the Underwriter's Laboratories (UL) and Factory Mutual (FM).
In the United States, the International Building Code (IBC) is the most widely adopted model code. Developed by ICC, IBC is reviewed through a consensus development process every three years. IBC, together with the International Energy Conservation Code (IECC), outline the minimum requirements for various building systems, including exterior wall systems incorporating energy-efficient materials like polyisocyanurate (ISO) insulation. The International Existing Building Code (IEBC) is often adopted by jurisdictions to further regulate alterations or other modifications made to existing buildings.
These standards evolve over time to reflect new information that becomes available and as new products, research, and practices are developed and tested. In recent years, efforts to improve energy efficiency and reduce thermal bridging in exterior wall assemblies through the use of continuous insulation (ci) have increased the installation of ISO insulation or other products. To ensure fire safety is maintained in our pursuit of greater energy efficiency, the industry tests these exterior wall assemblies to rigorous fire performance standards.