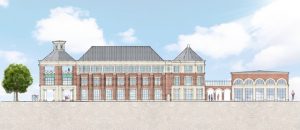 Architecture and urban design firm Cooper Robertson will be designing Drury University's new Enterprise Center in Springfield, Missouri, in collaboration with Trivers Associates.
The three-story structure will be the new home of the Breech School of Business Administration and will be the first building project of the campus master plan.
The 5088-m2 (54,772-sf) Enterprise Center will house business and political science programs, as well as high-tech student collaborative spaces, the Cox Compass Center, and a conference center. It will be located on a space currently serving as a surface parking lot.
The project also features a 1022-m2 (11,000-sf) Center for Executive Education attached by a colonnade to the main building.
Arkansas-based Nabholz will be the general contractor (GC) on the project.
"The Breech faculty and leadership will define the experience, as they always have, but the new building will open creativity and innovation, and enhance the student experience," said Mark Walker, Drury trustee. "The Enterprise Center's impact will go beyond the business program, however, as we combine form and function in ways that showcase the valuable interdisciplinary teaching and learning of Your Drury Fusion."
A groundbreaking is expected for spring next year.