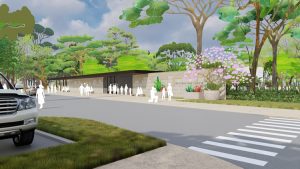 Overland Partners, an architecture firm based in San Antonio, Texas, has revealed the designs for the new Welcome Pavilion at the Houston Botanic Garden​​. The pavilion aims to inspire the public's understanding and connection with the natural environment.
The 217-m2 (2334-sf) building will feature a café, gift shop, ticketing center, storage, and restrooms. The building's façade, or 'Welcome Wall,' is made of coral limestone in differing patterns that feature a botanical motif.
West 8​, a New York-based landscape architecture firm, created the overall master plan and designed the Phase I experiences for the botanic garden, while Overland Partners focused on the Welcome Pavilion.
"As Houston's newest cultural institution, creating a strong first impression for our guests is very important," said Claudia Gee Vassar, the garden's president. "The Pavilion's gorgeous Welcome Wall will draw visitors into our beautiful urban oasis. In addition, the Pavilion's central location, climate-controlled interior, and generous overhead canopy outside will make it a natural meeting place for visitors to gather and share their garden experiences."
The Houston Botanic Garden is set to open in the fall next year.