Sound levels as a function of the space
Before designing a new space or building, sound levels need to be determined, and the space should be evaluated to see if it can support the desired level. Noise Criteria curves (NC) are used for rating indoor noise at each frequency from 63 to 8000 Hz. An acoustic consultant can verify the correct level for the desired space. A typical closed-office sound level would be approximately NC-35. Higher levels of controlled noise are ideal for open-office areas to provide greater privacy. The appropriate limit for these spaces is NC-40.
On the other hand, private areas—such as meeting rooms and offices—require lower background sound levels to promote better communication and to allow the use of audio/visual (A/V) equipment for conferencing capabilities. The appropriate limits for these quieter spaces range from NC-25 to NC-35, depending on how the room is being used. Most modern office buildings provide a space rated at NC-40 or NC-35. Depending on the needs, background sound levels should be adjusted on a room-by-room basis.
When determining sound levels, tenants should consider their needs and what is being provided by the landlord. The building owner is responsible for a portion of the background sound levels and may be willing to separate the space and erect walls to create private, quieter spaces, or may allow modification to the mechanical system for greater flexibility around sound levels (Figure 1).
Consider sound isolation in the design
In many modern commercial office buildings, the owner provides an open area finished with raised access flooring and acoustical ceiling tiles. Certain wall constructions around the mechanical rooms may also be provided. The tenant is responsible to outfit the space and construct other walls as required. How these walls will be constructed should be determined at the outset to ensure sound is isolated and placement is approved by the landlord.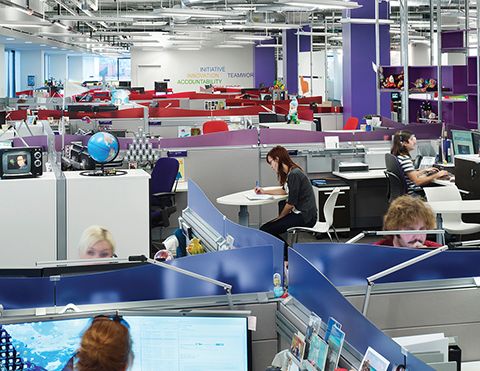 For example, will the walls be constructed from slab-to-slab or from raised access floor to underside of acoustic ceiling tile? Construction from slab-to-slab may not be feasible since it may require a significant amount of rework for the landlord or may not be compatible with the mechanical design. However, construction of partitions from a raised access floor to the underside of the acoustic ceiling tile can result in spaces with very little sound isolation or privacy between them.
Other strategies such as constructing sound-attenuating baffles above the ceiling or below the floor may need to be considered. There is a current trend in the industry to use rigid closed-cell extruded polystyrene (XPS) as a sound baffle above the walls. Unfortunately, while it provides a visual separation, the material does little to offer better sound isolation or privacy between spaces.
All these strategies should be discussed with the design team and the landlord to find the most suitable option. Some buildings may not allow these types of changes, but if it is important, it is worth pushing for. Failing that, another location with a landlord that understands noise control should be sought.