Consider sound masking
While a noisy office may affect productivity, so too will complete silence—no background sound can make conversations extremely distracting. Sound masking is required in order to provide privacy through artificial background noise. At a sporting venue or cocktail party with a large crowd, having a conversation with the neighboring person using an elevated voice does not mean others will hear the conversation. This is because the signal-to-noise ratio is very low (i.e. the voice is low in comparison to the background noise). The same can be true in open offices.
Sound masking needs to be done carefully, and it should not be used as the primary acoustic solution. In most cases, the reliance on sound masking alone can result in annoying office environments as white noise is pumped in at levels that are too high to be effective.
Restaurants are often guilty of this practice. Rather than change the design or add acoustic elements to manage noise, many turn up the music, forcing people to talk louder, elevating the overall noise level. Adding music to drown out noise is not effective sound masking. If done correctly, it should sound like static or air flow and provide privacy without distraction. Optimal sound masking levels should be around 40 to 45 dBA and never exceed 48 dBA. The key to good sound masking is to keep it as hidden as possible. The ultimate goal is to have employees never notice it.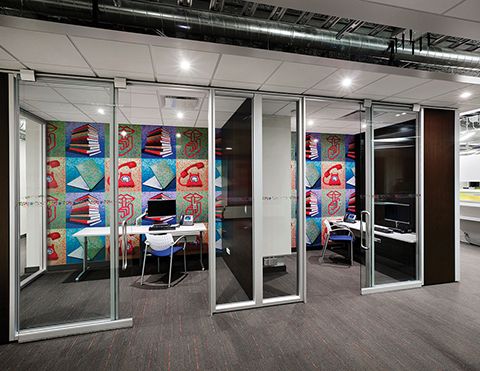 There are two schools of thought when it comes to implementing sound masking. Some suggest it be used only in the spaces where it is needed; while others recommend it be incorporated throughout the facility and adjusted from room-to-room.
The first option is more cost-effective; it may be at a fixed level in the open-office areas, but is not installed or present in meeting rooms or private offices. This allows these rooms to be quieter, although the masking system may be more noticeable while the goal is to be subtle. The second option tends to be more expensive, but it can be tuned at different levels in different rooms. This will not allow the meeting rooms to be as quiet, but it will ensure the masking system is not as noticeable. Regardless of which option is chosen, it is critical the sound masking is balanced. An occupant should not notice a significant change in background noise when moving room to room. Variations should be less than 3 to 5 dBA from room to room, but should be ± 1dB within the same space so the change is as subtle as possible.
Review mechanical systems
An acoustically balanced office space can be ruined by a noisy air-conditioner or heating system. When looking at a space, one must ensure the mechanical systems are designed to provide even and balanced sound levels. Underfloor versus overhead, low velocity, and pressure all have implications on the acoustic design. In some cases, the mechanical system itself can act as the sound masking system, and no further investment is necessary.
Underfloor mechanical systems are becoming increasingly common in newer buildings where mechanical systems are designed to be efficient. However, more efficient systems can be challenging because they cannot accommodate too many flow obstructions, as this affect their performance. The use of any silencers, or above-ceiling or under-floor baffles can have a significant impact on acoustics.
Conclusion
Increased communication, creativity, and collaboration are all benefits of the open-office space, but employees should feel comfortable. Designing a space that works is more than just square footage or furniture choices. By thinking about noise control from the beginning, the open-office concept can work for all employees and not affect worker output.
It is important to remember the privacy levels for an open office will never be the same as a completely closed one. Building owners need to be aware switching to an open office will probably require some behavioral changes, such as speaking softly, or taking loud conversations or group meetings to dedicated spaces. There are some trade-offs when it comes to privacy in exchange for a collaborative and modern environment. However, by incorporating quiet retreats within the open-office design, workplaces will be able to meet their objectives of having a cost-effective, cooperative working environment with less noise, which fosters increased productivity.

Steve Titus has more than a decade of experience in acoustical design and is president and CEO of Aercoustics Engineering Ltd, a firm specializing in fostering innovation in acoustics, vibration, and noise control. Aercoustics works with architects and engineers to solve noise reduction and noise mitigation issues for a wide variety of projects, from wind turbine noise reduction and measurement, to urban and residential planning, to expert witness testimonies. Titus can be reached at stevet@aercoustics.com.