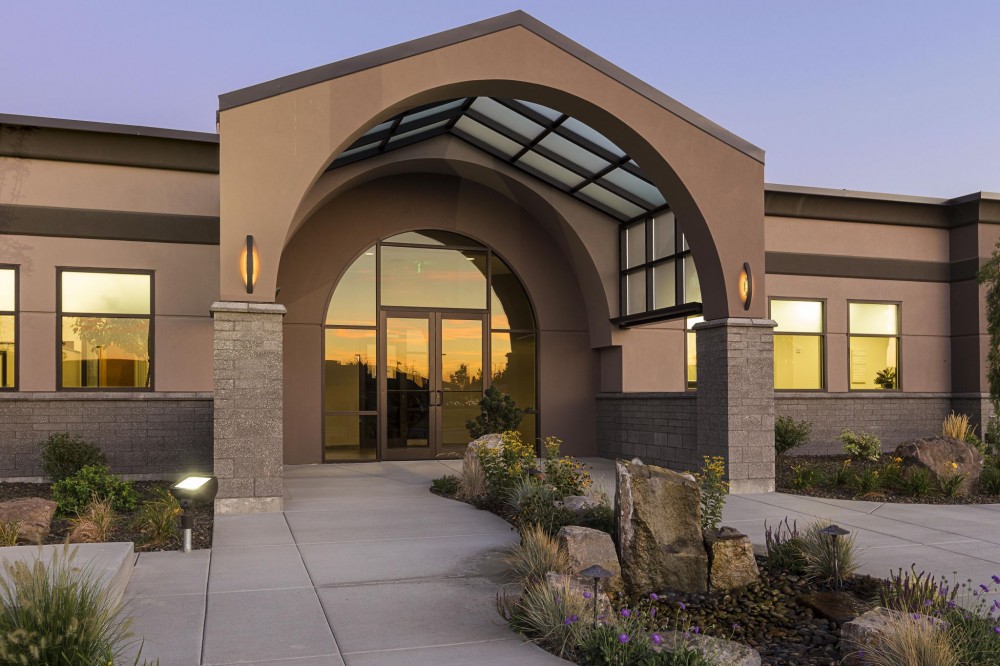 by Kevin Hutchings
For almost a decade, G2 Construction (Kennewick, Washington), has been creating facilities for medical and dental practices, hospitals, government entities, colleges, and retail operations. However, in 2011, this general contractor needed a building of its own.
The 18-employee company found itself quickly outgrowing its leased 139-m2 (1500-sf) office space. Its president, Doug Gunther, wanted to construct a building to reflect the company's work.
"The new facility would help us demonstrate the benefits that we can provide in terms of versatility, building cost, and construction duration," he said.
For the headquarters, Gunther chose a 0.4-ha (1-acre) property bordering a former municipal airport being developed for mixed-use commercial and retail buildings. The goal was to construct an energy-efficient headquarters that allowed for future expansion. Due to the cramped conditions in the company's old space, Gunther wanted to complete the project in seven months—without taking manpower and equipment away from client projects.
G2 turned to another local business, CKJT Architects, to design a 782-m2 (8421-sf) space with room to grow. G2 would occupy approximately half of the space, including two offices for future employees, as well as a large conference room for client meetings. Two additional suites were made available for other businesses to lease.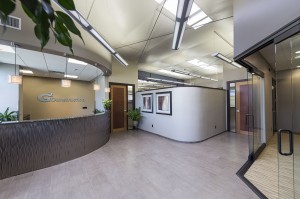 A versatile structural system was specified, which was ideal for facilities where expansions or extensions would be important, such as industrial plants, warehouses, retail stores, and office complexes. Its design flexibility provided the opportunity to outfit the structure with a stucco and stone exterior to create a high-end, professional appearance to attract clients and tenants.
A standing-seam metal roof system offered enhanced energy efficiency with R-38 ceiling insulation and R-30 wall insulation. The movable clips of the roof system enable movement under changing temperatures, and the 360-degree double-lock seam helps ensure weathertight performance.
Another key reason for the roof system's choice was because it provided an opportunity for daylighting and additional energy savings. Installation of a daylighting system also increased occupant comfort.
Research has shown access to natural light during the workday can increase productivity and have a positive impact on overall health for building occupants. The daylighting system can provide a short return on investment (ROI)—an average of three to five years. Additionally, when combined with lighting controls, it can save up to 70 percent in lighting costs.
G2 was able to meet its ambitious completion deadline and move within about seven months after breaking ground.
"From the time the foundation and concrete slab were complete, erecting the structural system and the roof system took less than three weeks," Gunther said. "Using conventional construction methods would have easily added another three to five weeks to the project timeline."
G2 occupies half of the new space, and leases the remaining space to two tenants.

Kevin Hutchings is the training manager for Butler Manufacturing and is responsible for product, builder management, and sales training. He joined Butler as an order technician for the buildings division and in the retrofit roof group, where he gained substantial experience in metal roof design and detailing. Hutchings has also served as project services manager for the roof division of Butler, managing a number of large and complex retrofit roof projects. He has been training manager at Butler for more than 15 years. Hutchings can be contacted at jkhutchings@butlermfg.com.