by Amber Ponce, GRP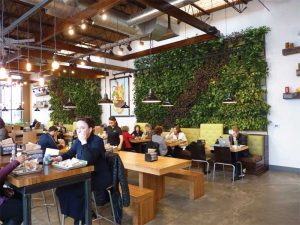 The innate need of human beings to connect with nature is known as biophilia. In order to nurture this vital connection, biophilic design purposefully incorporates natural materials and light, plants, views of the outdoors, and other touchpoints with the outside world into the built environment.
According to the National Human Activity Pattern Survey (NHAPS), Americans, on average, spend 87 percent of their time indoors. This is why the application of biophilic design to indoor environments is important. Greening up the interiors of buildings with plants promotes well-being and offers an array of benefits.
Benefits of plants indoors
Plants bring life to interior spaces and make them more healthy and comfortable. Plants naturally infuse the air with oxygen and reduce carbon dioxide (CO2) and airborne particulates, thereby improving overall air quality. Through the natural process of evapotranspiration, plants can release water vapor, thereby cooling the air in summer and restoring a healthy level of moisture in heated spaces during winter. Therefore, green walls are expected to enhance the effectiveness of the HVAC systems. However, more research is needed to establish the effects of indoor green walls on HVAC system size, design, and operations.
Cornerstone University in Grand Rapids, Michigan, installed green walls over the cool air intakes in their new STEM building. By pulling air through the vegetated canopy, the university and design team expect to harness the natural cleaning and oxygenation effects of green wall plants.
Additionally, plants and soil are acoustic insulators helping dampen and reduce indoor noise. The 2015 study, "Evaluation of green walls as a passive acoustic insulation system for buildings," by Z. Azkorra, G. Pérez, J. Coma et al. in Applied Acoustics found green walls provided an average sound reduction of 15 dB and a sound absorption coefficient (SAC) of 0.4 (i.e. it absorbed 40 percent of sound).
Greening up the interiors of commercial buildings boosts occupants' productivity and decreases human resources costs. Integrating plants into workplaces can reduce eyestrain, relieve mental fatigue, diminish stress, enhance creativity, and improve focus. Workplaces with biophilic design elements, such as interior plantscaping, have experienced a reduction in absenteeism, fewer complaints, and improved staff retention. According to a presentation by I. Elzeyadi on "Daylighting-Bias and Biophilia: Quantifying the Impacts of Daylight on Occupants Health" at the 2011 Greenbuild conference in Washington, D.C., employees with views of trees and landscape took an average of 57 hours of sick leave per year, compared to the 68 hours taken by employees without any view.
Including plants in hospitality and retail interiors makes the space more attractive, welcoming, and relaxing for customers. For example, Coava Coffee (Portland) incorporated a green wall into one of its cafes to enliven the atmosphere.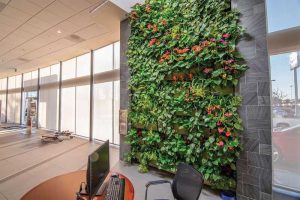 "We are offering hospitality and creating a welcoming ambiance so our customers feel like invited friends," said Matt Higgins, president of Coava Coffee Roasters. "The green wall contributes to that inviting feeling we strive for, and it has been very well received by our customers."
Using plants in healthcare settings enhances the experience of patients, visitors, and staff, who report positive feelings and greater satisfaction in the presence of natural elements. Patients who can see and experience plants use less medication, and they have reduced recovery times after medical procedures.
For example, MossRehab (Elkins Park, Pennsylvania), the physical and cognitive rehabilitation division of the Einstein Healthcare Network, established the Alice and Herbert Sachs Therapeutic Conservatory to bring the benefits of biophilia to their patients. MossRehab serves patients in need of rehabilitation to overcome the effects of spinal cord injuries, strokes, amputations, traumatic brain injuries, and other accidents and medical conditions. The plant-filled conservatory includes a green wall.
"You can see the difference it makes when patients come into the conservatory, which is richly oxygenated, warm, and moist, and where they are surrounded by green," said Abby Jaroslow, HTR, CH, horticultural therapist, MossRehab. "They can feel completely removed from the hospital setting. It is relaxing and therapeutic just to be there. With patients experiencing agitation and anxiety, you can see the relief they experience."
Further, student exposure to nature has been correlated with higher academic performance in both math and English. Studies have also demonstrated connecting to nature eases symptoms of attention deficit hyperactivity disorder (ADHD).