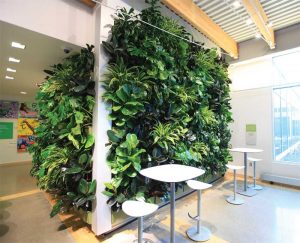 Another key aspect that is often overlooked is a plan for Occupational Safety and Health Administration (OSHA)-compliant access for maintenance on taller installations. If a ladder cannot be opened in the space or will not be tall enough to safely reach the upper rows of plants, alternate access must be planned for. In these cases, it can help to consult with suppliers of fall protection equipment for the most appropriate solution for the site. This may include permanently installed fall protection anchors.
Plants
Most importantly, interior green walls need plants that can thrive indoors. Horticultural expertise and green wall experience are important for making good selections. It is critical to select plants with compatible growth habits and water and light needs. One must also avoid placement of trailing plants such as Schindapsus 'silver satin' (satin pothos) above upright growers such as Spathiphyllum (peace lily).
Simplicity in plant design leads to more effective displays, usually less is more. Some of the most striking living wall designs have two or three selections arranged in wave or striped patterns. One might consider using different colors of the same type of plant, such as Anthurium (tail flower, flamingo flower) or Sansevieria (snake plant, mother-in-law's tongue). Random arrangements of five to six upright or billowing selections, such as Philodendrons, Dracaenas, Ficus elastica (rubber fig), and Ficus lyrata (fiddleleaf fig), offer a more naturalistic design. Use smaller plants for more detailed plant designs, but be sure they will grow tall enough, or tail low enough, to cover the green wall system's structure.
The growing media used to sustain plants on indoor living walls depends on plant selection. The durability of the media should match the life expectancy of the plants. For perennials, vines, and tropicals that are expected to last for three to five years before dividing, a quality potting soil with perlite or pumice and/or composted pine bark is the good choice.
Watering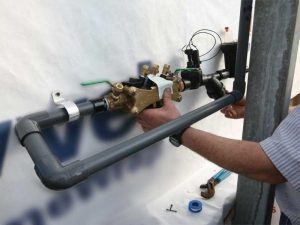 Irrigation schedules depend on a number of factors, such as system design, lighting, and plant types and maturity. As a rule of thumb, plants on the same irrigation zone must have similar water needs. For example, a water-conserving succulent like Crassula ovata (jade plant) should not be paired with a humidity-loving Chamaedorea elegans (parlor palm). It is impossible to water one type of plant properly without over- or under-watering the other.
The method of water delivery and drainage varies by manufacturer. Some systems use drip emitters to irrigate rows of planters and others wick water up from a trough below the planters, while some trickle water down through planted panels.
A well-managed living wall should be watered just to the point of runoff, with minimal waste. Some systems collect runoff water from the living wall planters and direct it to floor drains. Others hold water in planters or recirculate it through the plants and growing medium.
Specifiers may need to exercise caution with green wall systems designed to hold water in the bottom of planters or to recirculate water within the structure. Water stored in the bottom of planters may cause root rot and unpleasant odors. In systems cycling water multiple times, salt buildup with the ability to compromise the long-term health of plants might occur. Further, if a single plant is diseased, a recirculated system may quickly spread the illness to other plants.
Maintenance
Routine maintenance involves checking soil moisture, adjusting irrigation, fertilizing from spring through fall, pruning, cleaning out dead leaves, and trimming to maintain a design. Using leaf shine can provide a dust-resistant gloss and protective barrier. Trailing plants should be trimmed regularly so the runners cover the system planters but do not smother the plants directly below them.
The amount of time and effort it takes to maintain a green wall varies by the size of the installation. One might discuss the maintenance requirements and costs with other building owners and facility managers who have experience with living walls. For large installations, it can be a good idea to get bids from firms specializing in maintenance of office plants. For a 9 to 14-m2 (100 to 150-sf) interior installation, a biweekly schedule of 10 to 20 minutes per visit will suffice.
In conclusion, the owners and facility managers of a wide variety of commercial buildings are enjoying the many benefits of indoor living walls as an element of biophilic design. Attention to critical success factors is the key to achieving these benefits.
Amber Ponce, GRP, is business development manager for LiveRoof Global and LiveWall. Ponce has participated in the development of industry standards for green roofing and living walls. She can be reached at amberp@livewall.com.