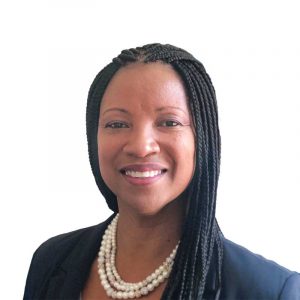 Lakisha Ann Woods Shares Her Journey in the Architecture, Engineering, Construction, and Owner (AECO) Industry
The American Institute of Architects (AIA) wanted an experienced professional with a proven track record to step in as its new executive vice-president/CEO. Lakisha Ann Woods, CAE, easily fit this description and took on the position on January 31.
Woods is the final trailblazer CSI celebrated during Women's History Month in March. Here, Woods shares her thoughts on what first intrigued her about a career in the architecture, engineering, construction, and owner (AECO) industry, and her biggest accomplishments since she started her professional journey. (The full interview is available at CSIResources.org.)
What first intrigued you about a career in the AECO industry and how does it continue to challenge and reward you?
I started in this industry right out of college. I never would've thought I'd have a career in the construction space, but I really loved the people. I loved the passion at all areas. I was at the National Ready Mixed Concrete Association (NRMCA), Associated General Contractors of America (AGC), National Association of Home Builders (NAHB), and then the National Institute of Building Sciences (NIBS), and now here at AIA. So, from all spectrums—from the subcontractor to the general contractor, to the home builder, to the architect—everyone really loves what they do. They have such an appreciation for the built environment, the places where we live, work, learn, and play. Who doesn't want to know they have a safe space to live in and a great building to work in? I'm so thrilled I had an opportunity to get involved. And the passion of the members is what's kept me here.
What advice might you share with women just beginning their careers or that you wish you could have given yourself?
The advice I would give is to recognize your power, strength and skills, the value you bring, and to stay strong and keep pushing forward. So often people don't get their seat at the table. They don't make their voice heard. Several years ago, I spoke at a conference for women in residential construction. They'd asked me to speak about a LinkedIn article I'd written called, "Please Stop Apologizing." I kept hearing women apologize for things that weren't their fault and who would diminish their opinion to get acceptance from other people at the table.
A woman came up to me who had just announced her retirement and was training the new woman who was going to replace her. She said, "I'm so glad you spoke about this because I was taught early on by the man who trained me that if you want to share your opinion, start by saying, 'I know this isn't important.'" And 30 years later she's training the next woman to do the same thing.
In my recently published book, Never Get Their Coffee, Empowering Fearless Leadership, there is a chapter titled, "I Am Who You Made Me." It's about the fact that, as women, often we are our own worst enemy because we've been trained by men to not see women as leaders. Sometimes when we sit on a panel, we tend to pick the man as the leader and not the woman, because that's what we we're trained to do. So, we must claim our space, recognize the value of our voice, and be heard.