CTBUH names fastest elevators and longest runs
by nithya_caleb | October 6, 2017 11:36 am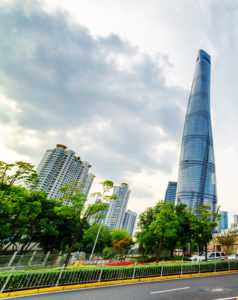 Earlier this year, the Council on Tall Buildings and Urban Habitat (CTBUH)[1] collaborated with Guinness World Records[2] to identify China's Shanghai Tower as the commercial building with the fastest elevator speeds and longest vertical runs. The council decided to expand on this research and determine the top buildings in each category, which is now available as a study entitled "Vertical Transportation: Ascent and Acceleration[3]."
Along the way the council uncovered a number of intriguing vertical transportation superlatives. When it comes to the world's tallest skyscrapers, the vertical commute in a building is as important as the horizontal commute through a city. Innovations in elevator systems allow passengers to get to their destinations more quickly, and with less stops. It is no surprise then the record-holder for fastest elevators also happens to be the world's second-tallest building at 632 m (2073 ft).
With elevator speeds topping out at 20.5 m/s (67 ft/s), Shanghai Tower narrowly surpasses another Chinese project—CTF Finance Center—which boasts speeds of up to 20 m/s (65 ft/s). Meanwhile, Taiwan's Taipei 101 trails at 16.83 m/s (55 ft/s), followed by Yokohama's Landmark Tower (Japan) at 12.5 m/s (41 ft/s) and Hong Kong's Two International Finance Center at 10.6 m/s (34.7 ft/s).
Shanghai Tower also features the tallest continuous elevator run at 578.55 m (1898 ft). These elevators whisk visitors all the way from the basement to the observation deck near the top of the 632-m (2073-ft) building. Following closely is Ping An Finance Center (Shenzhen) with elevators running a continuous 573.5 m (1881 ft), just short of the building's 599-m (1965-ft) pinnacle.
Saudi Arabia's under-construction Jeddah Tower, with a projected height exceeding 1000 m (3280 ft), is poised to challenge these records. The tower will reportedly feature an elevator run of 660 m (2165 ft) and double-decker elevators exceeding the current record of 10 m/s (32 ft/s) for such systems.
An interactive version of this study is available here[4]. The study is also included in the 2017 Issue III of the CTBUH Journal[5].
Endnotes:
Council on Tall Buildings and Urban Habitat (CTBUH): http://www.ctbuh.org/
Guinness World Records: http://www.guinnessworldrecords.com/
Vertical Transportation: Ascent and Acceleration: http://www.ctbuh.org/Publications/CTBUHJournal/InNumbers/VerticalTransportationAscentAcceleration/tabid/7633/language/en-US/Default.aspx
here: http://ctbuh.org/tbin/2017/vertical/fastest.html
2017 Issue III of the CTBUH Journal: https://store.ctbuh.org/p-191-2017-issue-iii.aspx
Source URL: https://www.constructionspecifier.com/ctbuh-names-fastest-elevators-longest-runs/
---