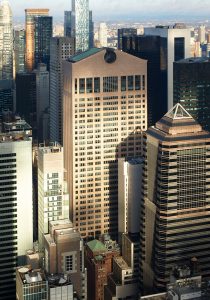 In conjunction with its 50th anniversary, the Council on Tall Buildings and Urban Habitat (CTBUH) has revealed its list of the 50 most influential tall buildings of the last 50 years.
On that list are 333 Wacker Drive (1983), 875 North Michigan Avenue (1969), and the AMA Plaza (1972), all located in Chicago. Located in New York City, the 4 Times Square (1999) building, 550 Madison Avenue (1983), and 601 Lexington (1977) are also in the lineup.
These buildings were selected through an open call to the CTBUH member constituency with input from on-staff tall building experts. The skyscraper sector has a history extending back more than 130 years, but it entered a new phase of innovation and acceleration in the late 1960s, which drove the council's foundation in 1969, CTBUH said.
Each of the tall buildings on this list exemplifies a critical milestone in the half-century dialogue between iconicity, contextualism, environmental consciousness, and structural innovation, added CTBUH.
The buildings will be formally recognized at the CTBUH 10th World Congress in Chicago at the end of this month.
Click here to view all the other tall buildings.