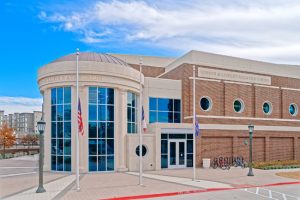 Southern Methodist University's (SMU's) Robson & Lindley Aquatics Center and Barr-McMillion Natatorium, Dallas, Texas, has earned the Leadership in Energy and Environmental Design (LEED) Gold certification from the U.S. Green Building Council (USGBC). To realize the project's aesthetic, performance, and sustainability goals, high-performance curtain wall, storefront, and wide stile entrance systems was used.
The 3902-m2 (42,000-sf) center provides facilities for practice and competition. Brinkley Sargent Wiginton Architects designed the center to reflect the traditional Georgian architecture associated with the university.
The center's grand rotunda features a curtain wall in three towering two-story-tall sections to enclose this distinctive, curved corner. Between each curtain wall section, full-height, half-circle Tuscan columns in pale cast-stone add dimensional drama to the façade.
Bridging the light-colored masonry with the dark brown brickwork, round portal-inspired windows punctuate the walls that bookend the rotunda and extend along one wall as clerestory units. Along the street level of both walls, the center showcases more traditional, rectangular-shaped storefront and entrance systems.
High-performance window systems also played a key role in the integrated strategies to reduce the building's energy use, while providing greater comfort for occupants.
The building team also made a conscious effort to use products that have high recycled content and low levels of volatile organic compounds (VOCs). Aluminum framing members can be manufactured with recycled content and finished in low-emitting paints and coatings. For the aquatics center, the aluminum contains up to 70 percent recycled content and was finished in Class 1 Clear Anodize. Since anodize is the most durable finish available, aluminum-framed curtain wall, storefront, and entrance systems further support SMU's goals of creating "attractive, low-maintenance spaces."
At the end of its useful life on the building, the aluminum framing can be reused and recycled. The aquatics center's building materials totaled more than 27 percent of recycled content by cost, and over 90 percent of all construction waste was recycled.
Further supporting its LEED Gold certification, the project is convenient to transit and pedestrian paths, uses low-flow plumbing fixtures, and employs high-efficiency mechanical and lighting systems. SMU also has purchased green power to help offset its energy use and completed enhanced commissioning to ensure all systems ran as designed.