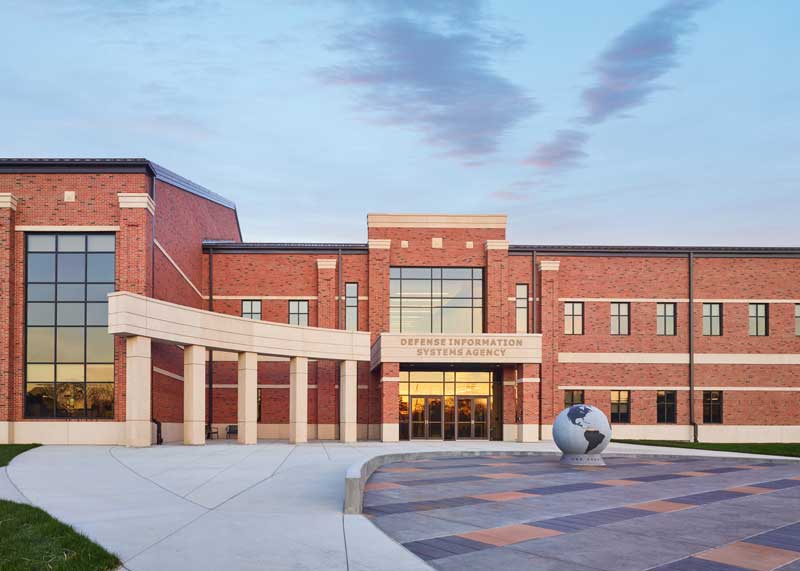 The Global Operational Headquarters for Defense Information Systems Agency (DISA), the agency that plans, develops, delivers, and operates the military's command-and-control capabilities, was honored by the American Council of Engineering Companies (ACEC) Illinois Chapter during its 2018 Engineering Excellence Awards, winning a special achievement award in the category of Building/Technology Systems.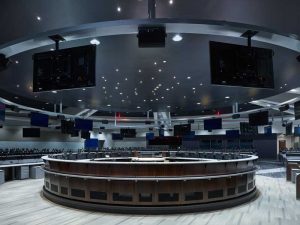 Designed by Burns & McDonnell, the headquarters, which is located at Scott Air Force Base in Illinois, was delivered for the U.S. Army Corps of Engineers Louisville District ahead of schedule and $7 million under the original budget.
The 15,329-m2 (165,000-sf) facility features administrative areas and a data center, as well as a 1858-m2 (20,000-sf) operations center. The operations center is located within a 3809-m2 (41,000-sf) area designed to meet Sensitive Compartmented Information Facility (SCIF) standards. The operations center also employs a gigabit passive optical network (GPON) and is equipped with secure monitors that are able to run on the same feed or independently of one another. The area is fortified as a severe-weather shelter, capable of withstanding winds of more than 322 km/h (200 mph).
The headquarters previously received a design Merit Award from the U.S. Air Force and was also honored by the U.S. Army Corps of Engineers as the Top Executed Project. Additionally, the building is certified as Leadership in Energy and Environmental Design (LEED) Silver for new construction under the U.S. Green Building Council.
To read more, click here.