Denver affordable housing project wins grant for sustainable mass timber
by jason_cramp | July 18, 2022 11:19 am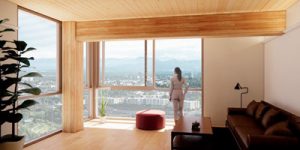 A multifamily building providing affordable housing in Denver, Colorado, is one of the six winning projects in the Softwood Lumber Board (SLB) and USDA Forest Service (USDA) 2022 Mass Timber Competition.
Denver-based Tres Birds, the firm behind the project, will share the prize money of $2 million among the winners. The competition was tough, including nearly 60 submissions demonstrating domestically sourced and manufactured mass timber's innovative applications in architectural design and highlighting its significant role in reducing the carbon footprint of the built environment.
"It's a great honor to be recognized by the Mass Timber Competition," said Michael M. Moore, principal and founder of Tres Birds. "We are dedicated to creating a low carbon footprint for all our projects and utilizing mass timber is one way we can strive to achieve net zero buildings for our clients."
Lessons learned from the competition projects, in the form of cost analyses, life cycle assessments, and other research results, will be shared with the broader design and construction community to help support future projects.
Endnotes:
[Image]: https://www.constructionspecifier.com/wp-content/uploads/2022/07/AA_Tres-Birds.jpg
Source URL: https://www.constructionspecifier.com/denver-affordable-housing-project-wins-sustainable-mass-timber-grant/
---