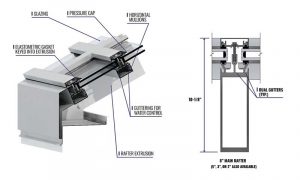 Glazing
If daylighting with full transparency is the intention, then glass is the material of choice. When the goal is to balance shading and daylighting, while reducing overheating of occupants below, specify either glass or polycarbonate glazing panels with a low light transmission. This presents a translucent appearance and diffuses the light to reduce glare during the day. For freestanding canopy structures that are illuminated at night, it also minimizes light pollution.
Glass can be printed and screened with patterns or tinted. Polycarbonate also can be specified in a range of colors and with a light transmittance range of 45 to 70 percent. Opal-colored cellular polycarbonate glazing provides high diffusion, evenly distributed light, and an appearance often preferred by architects.
Solar performance
Beyond enhancing glazing panels' appearance, coatings can be specified to improve performance, such as anti-reflecting, low-emissivity, and infrared (IR) blocking for solar reduction. Further, polycarbonate panels co-extruded with an ultraviolet (UV)-resistant layer prevent the material from yellowing and deteriorating from the sun.
Impact resistance and resilience
With glass, shattering remains a top concern. Polycarbonate is 250 times more impact resistant than an equivalent thickness of annealed glass. Monolithic polycarbonate canopy systems can be used to mimic the appearance of glass.
Impact- and vandal-resistance are priority performance criteria for stand-alone canopy structures in high-traffic areas. For high-traffic, high-touch surfaces with a durable, low-maintenance finish, optional metal column covers and cladding also can be incorporated into the freestanding structure.
Specifying canopy end caps in metal presents a neat appearance and minimizes maintenance. Compared with open ends or plastic caps, metal caps secure the battens, and help keep out dirt, debris, insects, and wildlife.
At the end of their life in the canopy system, metal and glazing components can be recycled and repurposed.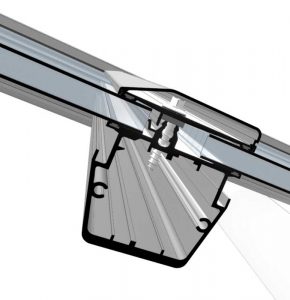 Rain management
Along with providing daylighting and shading, most canopy designs also serve to provide temporary shelter from the rain. Helping keep people dry, some canopies feature rafters engineered with an internal gutter system to capture and divert water run-off.
Further, for long-spanning canopy systems, larger panel sizes mean fewer joints, which results in fewer opportunities for leaks. While glass lite sizes are increasing, polycarbonate glazing panels are available up to 16.5 m (54 ft) long for continuous runs without intermediate horizontal mullions.
Wind and weather
While the canopy system's roof panels cover overhead, wind screens can be specified to help block the sides.
Most stand-alone canopy systems are not fully enclosed. If they have walls, they are usually open on at least one side. In addition, partial-height panels or widely spaced panels may be used to create the structure's sides. Since they are not enclosed, a negative pressure test will not be beneficial and will unnecessarily add to the cost.
Standing-seam canopy roofs typically provide the most economical and effective option for long-span, high-load conditions. The panels are fabricated with legs and sealed together to form the seam with a batten and clamping mechanism.
Canopies also can be specified with snow and ice guards. These guards can be especially important in preventing heavy snow and ice sheets from falling.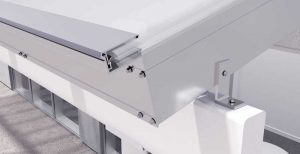 Installation and coordination
Consult with the canopy system's engineering and manufacturing team early in the project's design to ensure the freestanding structure will meet the quality standards and specification requirements. For the best value, select an experienced manufacturer with a full range of capabilities to provide structural calculations, shop drawings, factory fabrication, and installation instructions.
A manufacturer offering an all-in-one solution also can recommend installation methodologies and coordinate with experienced contractors to match a project's schedule, budget, and jobsite conditions. Some stand-alone canopy structures will require coordination across multiple trades, such as working with electrical contractors to integrate lighting displays or photovoltaic arrays. A collaborative approach led by the canopy system manufacturer will allow for a seamless chain of custody and a successful result supported by a comprehensive warranty.
Project examples
Delaware Technical Community College's Stanton Campus courtyard—Newark, Delaware
Delaware Technical Community College's Stanton Campus includes a freestanding canopy system above the pedestrian walkway in its renovated courtyard. Guiding the project's direction, a survey of students, faculty, and staff identified the need for additional seating, brighter colors, and more shade in the 1208 m2 (13,000 sf) courtyard.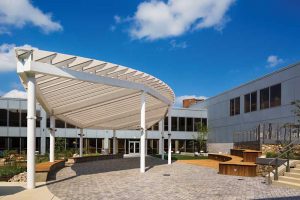 In response to Delaware Tech's clear goals, project architect Tevebaugh Associates worked closely with the canopy system's engineering and manufacturing team to create a sweeping, translucent canopy using polycarbonate glazing panels. Tevebaugh principal, Shawn Crowley, AIA noted, "A design challenge was to provide a canopy that provided maximum shade to the courtyard, while not overpowering the space, which is enclosed on all four sides."
The freestanding, marquise-shaped canopy not only provides shade and shelter, but also serves as a sculptural design element that incorporates colorful up-lighting, while maintaining the open, inviting, and airy atmosphere.
"The canopy covers 160 m2 (1718 sf) and consists of continuous curves on each edge that come to a point," says Crowley. The manufacturer "was able to implement a monolithic polycarbonate panel in lieu of a cellular system that provided a consistent surface color and minimized the profile of the canopy's roof structure. This thin profile was a critical component to allow the overall structure to feel light and sleek, while still providing a great deal of shade and comfort for students."
The size of the canopy, at 24 m (80 ft) long by 9.8 m (32 ft) wide, posed a significant challenge to accomplishing the architect's vision. Typically, glazing panels are subdivided by cross-mullions, but these would interfere with the canopy's aesthetic.
"A critical component of the canopy's design was to ensure the finished product maintained a sleek appearance by not having any intermediate framing members," says Crowley.
The monolithic polycarbonate sheets were installed in lengths exceeding 9 m (30 ft). Achieving the architect's vision for its client, the canopy provides a comfortable space connected to the surrounding buildings, to the outdoors, and to the campus community.