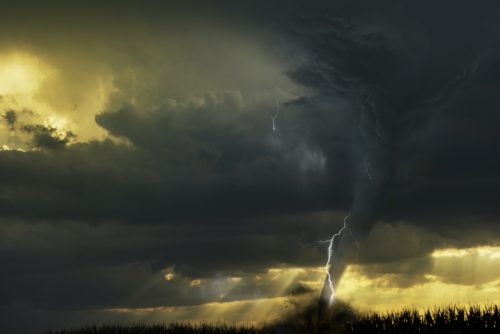 by Paul Brown
Safe rooms are specially designed structures that offer an enclosed space for people to seek refuge in the event of extreme weather, such as tornadoes and hurricanes. They are designed to provide what the Federal Emergency Management Agency (FEMA) considers to be "near-absolute protection"—a term describing the level of protection necessary to significantly lower chances of people within the room suffering injury or death.
Building a safe room is not an easy process, as designing a FEMA-approved structure requires following specific guidelines. While the majority of FEMA's guidelines apply to both residential and community safe rooms, there are key differences when designing a shelter capable of protecting a large group of people. FEMA breaks down safe room design guidelines into two separate documents: FEMA P-320 for private residences or small businesses and FEMA P-361 for community shelters.
The addition of a safe room on a residential property contributes to a homeowner's peace of mind and increases the value of the home. A community or small-business safe room has a similar advantage.
FEMA guidelines for constructing safe rooms
Local building codes may affect the construction process of a safe room, but a permit is almost always needed. Due to the nature of a safe room, the design plan must be drawn up by an engineer and submitted for review in the local planning department before building begins. Community or public safe rooms adhere to more strict guidelines in comparison to residential safe rooms.
Most new constructions require a building inspection, even if the shelter is detached from the main building. Depending on the neighborhood, contractors may also need to have their plan for an exterior safe room for a business or community center approved by a local architectural committee.
Consulting with a local engineer is also recommended. This ensures regional weather concerns are considered in the planning process.
What should be considered when designing a safe room?
Some questions must be answered when planning a residential or commercial safe room.
Will the room need flood protection?
Safe rooms designed to withstand winds and debris will not necessarily offer adequate refuge in the event of flooding. Proper design is even more important for buildings located in hurricane regions where flooding is a risk. Even a tightly sealed shelter that protects occupants from flooding can become dangerous if rescue personnel are unable to reach those inside due to high water. Further, intense flooding could lift these shelters from the ground.
Safe rooms constructed in flood-prone areas are commonly built above-ground in areas with the lowest risk of flooding (i.e. on high ground) to alleviate this issue.
Should the room be attached or detached?
There are three options for the location of a safe room: attached, basement, or detached.
It is easiest to construct a communal safe room during new construction of a public building. However, if the building has a sound basement and is in an area with a low flooding risk, it is possible to remodel and build a below-ground safety shelter.
When installing a safe room for public use, detached spaces are often preferred. These shelters are the easiest to construct in an accessible area that is above water and centrally located.
Can the room serve a dual purpose?
Devising a dual-purpose design is useful for communities. Rather than constructing a safe room that can only be used in emergency, one might consider constructing a shelter that also serves as a cafeteria, gym, rec center, or similar space. These types of projects require more planning and a larger budget, but are a worthy venture for communities that could also benefit from additional public recreational space.
Does the blueprint fall under ICC 500 standards?
It is important to ensure the blueprint and schematics meet International Code Council (ICC) 500, Standard for the Design and Construction of Storm Shelters. This standard includes building codes and recommendations of FEMA. At the very least, the building must meet ICC 500, but for maximum protection, it should be built to FEMA P-361, Safe Rooms for Tornadoes and Hurricanes: Guidance for Community and Residential Safe Rooms.
FEMA has numerous resources on its website that go into design ideas, as well as its own stringent guidelines for approval. During the brainstorming phase of safe room design and construction, it is important to thoroughly read through the material provided by FEMA. Projects involving safe rooms for community/public use will need to adhere to different building specifications than residential. For example, community safe rooms that need to be tornado- and/or hurricane-safe will need to be designed under FEMA P-361 whereas residential safe rooms must be built to FEMA P-320 and P-361 specs.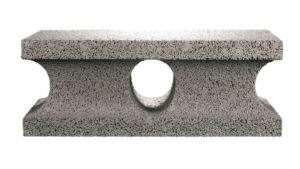 Other considerations for safe room design
When reviewing safe room designs, it is important to reference up-to-date guidelines—especially when considering construction and material technology. While old construction designs approved by FEMA are likely safe, using more advanced materials means a more resilient structure with added benefits. For example, HVAC and air-circulation systems—specifically those designed with safe rooms in mind—are significantly more efficient than those manufactured 15 years ago.
Another example relates to the walls of the structure. Instead of traditional concrete masonry units (CMUs), designers might opt for insulated concrete block wall systems. These blocks consist of a combination of cement and foam, creating durable, storm-resistant, and soundproofed walls. Not only does this speed construction of the room, but these blocks also offer fire resistance. While wind and flooding are often the focus in safe rooms, fire-resistant walls are generally beneficial. Some insulated concrete form (ICF) wall systems have passed both U.S. and foreign standards for safe room protection, including FEMA P-361.
(For more information on the use of insulated concrete masonry in healthcare projects, click here.)
Construction costs are also a consideration. According to FEMA, a typical 2 x 2-m (8 x 8-ft) safe room can be constructed for under $10,000. Community safe rooms differ widely in cost, but single-use safe rooms tend to range between $150 to $240/sf.
If the cost of building a safe room is an obstacle, one should keep in mind FEMA-approved structures for residential safe rooms can be funded through grants. The specifics of these grants vary by organization. Community safe rooms can also be funded via similar means. Grants are typically funded on a case-by-case basis, often depending on the cost-efficiency of the project. In 2008, accepted safe rooms were anywhere from 65 to 2,973m2 (700 to 32,000 sf) with an average square footage construction cost of $188/sf.
Community safe rooms are an invaluable means of protection in regions prone to catastrophic weather events. It is paramount to strictly adhere to FEMA guidelines when designing a community safe room, regardless of how small or large it may be. For those involved in a community safe room project, using FEMA's website and scouring the appropriate documents is vital.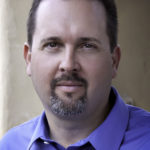 Paul Brown, MBA, LEED GA, is president of Bautex Systems, a manufacturer of insulated concrete block for building envelope and other wall systems. He writes about design and construction of mass wall systems to meet new energy and life safety codes for commercial and residential buildings. Brown is also a board member at-large for the U.S. Green Building Council's (USGBC's) Texas Chapter. He can be contacted via e-mail at paul.brown@bautexsystems.com.