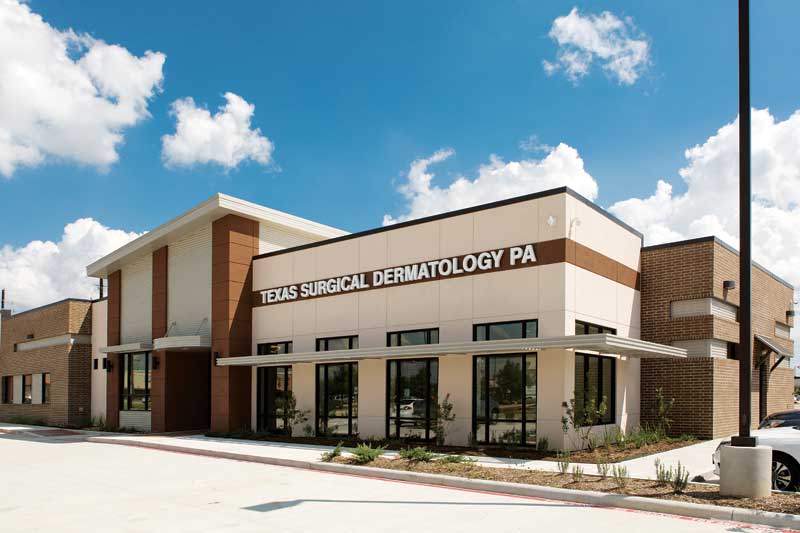 by Paul Brown
Specification writers must now consider more performance criteria than ever before. As trends in sustainability and wellness evolve and gain traction with building owners, and as the list of new products continues to grow, design professionals must determine how to reach more stringent targets for indoor environmental quality and energy consumption.
For any specifier tasked with improving performance above standard construction outcomes, simplicity should be the guiding mantra. For instance, those specifications that rely on precision installation from multiple parties rarely work well, due to the shared accountability inherent in complex systems. Taking a more simplified global look at performance targets can yield an enlightened focus on the enclosure system—one that can help a project meet higher standards.
Medical office facilities often fall prey to the destructive combination of higher performance criteria and a tendency to overcomplicate specifications. Historically, many owners have not viewed their buildings as necessary components to providing care. In fact, most have invested heavily in people and equipment rather than the building itself. However, owners are now becoming increasingly aware of the building and indoor environment's critical role in enhancing standards of care and levels of healing.
A study from the Lawrence Berkeley National Lab (LBNL), "Health and Productivity Gains from Better Indoor Environments and Their Relationship with Building Energy Efficiency," concludes that improvements to indoor environments can reduce the transmission of respiratory diseases by nine to 20 percent. (William J. Fisk's study, "Health and Productivity Gains from Better Indoor Environments and Their Relationship with Building Energy Efficiency," was published by Lawrence Berkeley National Lab in 2000.) This in turn can reduce absenteeism and increase cognitive function of doctors, nurses, and caregivers. Another study, by Johns Hopkins University, directly links patient care to the acoustic quality of a space. (Details on John Hopkins University's piece, "Rise in Hospital Noise Poses Problems for Patients and Staff," can be found at www.sciencedaily.com/releases/2005/11/051121101949.htm.) Poor indoor air quality (IAQ), inadequate thermal control, and lack of acoustic privacy all impede quality of care—problematic not only for caregivers and patients, but also for business success.
Medical facilities are generally among the most expensive building types to operate and maintain. The U.S. Department of Energy's (DOE's) analysis of data from the last five years indicates medical office buildings have a median source energy use intensity (EUI) of 245 kBtus/sf, with some exceeding 570 kBtus/sf. This is significantly higher than data collected through the Commercial Buildings Energy Consumption Survey (CBECS) in 2012, which indicated a median EUI of 194 kBtus/sf. (The U.S. Department of Energy published "Energy Use in Medical Office Buildings, Portfolio Manager," in January 2015.)
As indoor medical environmental standards have tightened, retrofits on older buildings have begun to make less financial sense, given the basic elements of the enclosure were never constructed to address high-performance standards. Such poor enclosures cause energy use and operational expenses to skyrocket, as HVAC systems must work hard to maintain the environmental standards required in medical facilities.
Owners need not only newer facilities that can reduce utility costs, but also spaces that help improve the standard of care for medical staff and their patients. Energy-efficient buildings featuring top-class IAQ, acoustic privacy, and thermal comfort are all necessary for owners' financial success.
Tighter enclosure standards
One challenge this new demand for high-performance buildings presents specifiers is the difficulty of updating older buildings. That is, it is challenging to turn buildings that were constructed under entirely different standard specifications into the high-performance buildings of today. If the basic components of the building are incompatible, little can be done.
For example, wall construction and several other components of the building's enclosure are the first line of defense for any high-performance building. If these are incorrectly installed, no mechanical system can fix the resulting issues. When done properly, however, mechanical systems can be downsized, have a longer lifespan, and operate efficiently, all while achieving higher IAQ standards.
Simply meeting code compliance for various building envelope components will not provide the benefits now sought by medical office building owners. The following sections highlight performance recommendations for building enclosures based on the aforementioned studies and the business imperatives of medical office building owners.