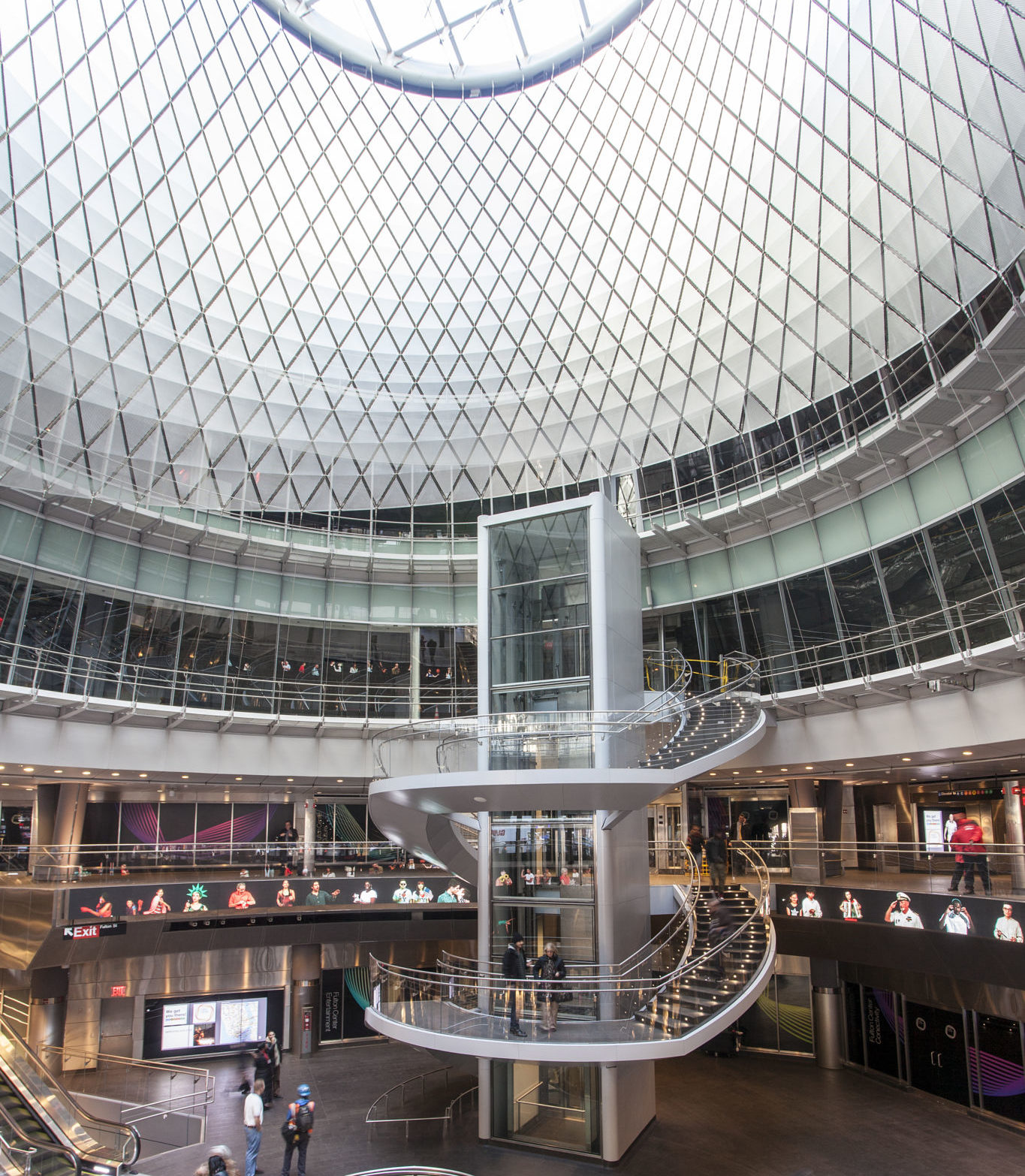 A 16-m (53-ft) diameter glass oculus is the focal point of New York City's Fulton Center—a transit hub integrating five subway stations served by nine subway lines.
Located in the lower Manhattan financial district, the 16,700-m2 (180,000-sf) space serves as many as 300,000 transit riders daily.
Beneath the oculus—which is Latin for 'eye'—is the 'Sky Reflector-Net,' a mesh-like structure by James Carpenter Design Associates, Grimshaw Architects, and Arup. Featuring 952 perforated aluminum panels, the net transmits sunlight 34 m (110 ft) down into the Fulton Center's lowest levels, which would not receive natural light otherwise.
Matching the curve of the oculus, a two-level circular enclosed space in the grand atrium dubbed 'the doughnut' houses restaurants and retail. To keep with the light-filled aesthetic of the rest of the Fulton Center, the design team specified glazed curtain walls to allow in light from the oculus and Sky Reflector-Net. However, this presented a few challenges due to the doughnut's curved form and the fact its walls slant upward to match the angle of the oculus, which creates an inverted plane.
The design team turned to proprietary, customized captured horizontal steel mullions that fit the distinctive shape, allowing for a flush and plumb surface appearance, and adequate spacing between each curtain wall segment.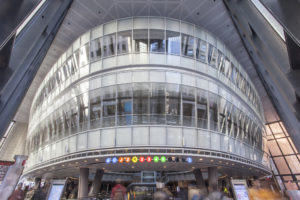 Matching the aesthetics of the fire-rated curtain walls on the doughnut's upper level and a prominent elevator core with the non-fire-rated curtain wall system on the doughnut's lower level presented another challenge. To achieve a seamless look, the design team turned to matched curtain wall systems using steel framing members, which can be formed from tubes instead of sheets, and shaped in an extrusion-like process that allows for a wide range of narrow mullion profiles.
To further maintain the uniform appearance between the two systems, the curtain wall manufacturer worked with the design team to develop fire-rated insulated glass units (IGUs) using proprietary glass with the same decorative custom frit pattern used on the non-fire-rated glass.
To read more about steel curtain walls, click here.