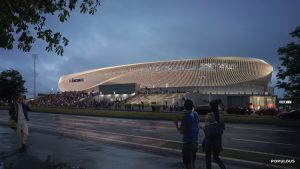 Designs have been unveiled for a new Major League Soccer (MLS) stadium in Cincinnati, Ohio. The stadium will feature an expressive architectural form through a singular twisting motion signifying the tension between two teams about to take to the pitch.
Known as West End Stadium, it was designed by global architecture practice Populous and structural engineering firm BuroHappold. The goal with the facility is to enhance fan experience and stadium atmosphere, while creating a distinctive focal point for the city.
The stadium features a wave-like façade with light-emitting diode (LED)-lit vertical fins, a grand entry sequence with public plaza space, and structural concepts highlighted by a wrap-around seating bowl with a safe-standing zone, and steeply pitched upper mezzanine. According to BuroHappold, this approach, which also places suite boxes above the main seating area, allows for continuous fan seating and unobstructed sightlines.
"As engineers and sports lovers, we are excited to develop new ideas that enable unique architecture and enhance the enjoyment of events for fans and owners alike," says Phil Skellorn, one of BuroHappold's sports and entertainment practice leaders. "The plans for West End Stadium demonstrate how structural design is intrinsically tied to a core goal of any entertainment project—fostering an atmosphere of excitement."
West End Stadium is slated for completion in 2021.