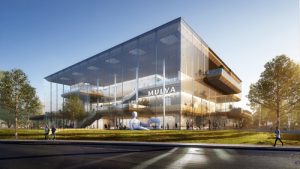 Inaugural designs have been unveiled for the Mulva Cultural Center in De Pere, Wisconsin, which aims to be a pioneering institution for world-class cultural programming in the Midwest.
Clad in a curtain of transparent glass, the Skidmore, Owings & Merrill (SOM)-designed center will serve as a destination and cultural nexus for the city and region, with an array of spaces designed to celebrate its vibrant creative community.
Located on the banks of the Fox River, the 5574-m2 (60,000-sf) center will host traveling exhibitions from global institutions, offer diverse cultural programming, and educational opportunities.
"As a city, we have always been incredibly proud of our rich history and traditions, while also endlessly striving to build a vibrant and forward-thinking future," said Mike Walsh, mayor of De Pere. "The Mulva Cultural Center embodies that spirit."
As visitors arrive to the Mulva Cultural Center, its transparent design will provide an elegant transition from outdoor to indoor spaces, creating visual connections from day to night and allowing the building to act as a lantern on the river. Inside, an open-air atrium spans the building's three stories. A large auditorium, event space, flexible permanent and temporary exhibition spaces, classrooms, a cafe, and outdoor terrace and indoor gathering spaces will provide new venues for cultural engagement.
Supported by a sophisticated structural system designed to maximize daylight and views, and minimize material use, the cultural center will provide an elegant background for the institution's diverse programming. A palette of native stone, timber, glass, and neutral metals will define the space, inspired by its location adjacent to the river on the Wisconsin prairies.
The landscape at the cultural center incorporates pedestrian pathways, public spaces, and multimodal-oriented infrastructure designed to increase connectivity to the site, the river, and the city.
The building is targeting completion in 2022.