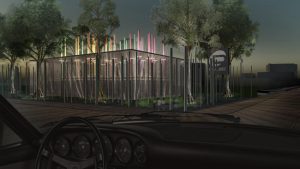 OnePULSE Foundation has invited the public to provide feedback on six concept designs for the National Pulse Memorial & Museum in Orlando, Florida. Comments can be submitted until October 10. Click here to view the design proposals.
The nonprofit was established to honor the 49 people who were killed, and those affected by the June 12, 2016, Pulse nightclub tragedy.
Here are the shortlisted teams.
Coldefy & Associés with RDAI, HHCP Architects, Xavier Veilhan, dUCKS scéno, Agence TER, and Laila Farah, uses water as the connecting element. From the existing fountain, it becomes a shallow reflecting pool encircling the club. An opulent garden planted with 49 trees at the memorial site provides a protective and colorful canopy. At the center of the garden, the nightclub is preserved.
Diller, Scofidio + Renfro and Rene Gonzalez Architects with Raymond Jungles, Teresita Fernández, and Oliver Beer propose a memorial with a sanctuary that sits within a sound garden of cypress trees, natural ponds, and 268 reflective columns. Ascending above the original structure is the sanctuary, which is suspended on 49 rainbow-colored ceramic tile columns. Circular glass openings surround these columns while tinted glass skylights fill the space with colored light.
Heneghan peng architects, Wannemacher Jensen Architects, Gustafson Porter + Bowman, Sven Anderson, Pentagram, and Bartenbach LichtLabor's design shows each face of the memorial divided into seven sections, the number of colors in a rainbow. These 7 x 7 intersections intertwine as a shared space. At its heart is a matrix of flexible chambers displaying PULSE artifacts and mementos.
MASS Design Group, Little Diversified Architectural Consulting, Ralph Applebaum Associates, Sasaki, Sanford Biggers, Richard Blanco, and Porsha Olayiwola propose a museum that would begin broadly, including the history of oppression and the fight for equality embedded in Central Florida.
MVRDV, McKenzie Architects, Grant Associates, GSM Project, and Studio Drift has designed a comprehensive urban 'seeding' strategy connecting all key sites. It includes vibrant planting, lighting, parasol shading with bench seating, in addition to integrated smart and sustainable water and energy systems. The memorial's black volume communicates a midnight quality, even in the Florida sunshine, while gold accentuates the façade fractures.
Studio Libeskind with Baker Barrios Architects, Claude Cormier + Associés, Thinc, and Jenny Holzer created three integrated, yet individually distinctive elements. The heart-shaped design is contoured by 366 rainbow gates, each for a day of the 2016 calendar year. They preserve the existing nightclub site as the Broken Heart and it is the sacred space of the project.