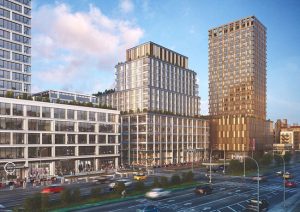 CetraRuddy has unveiled designs for 202 Broome Street located at Manhattan's Lower East Side. The 14-story, mixed-use building has topped out and is part of Essex Crossing, a 2.4-ha (6-acre) megadevelopment.
Essex Crossing has transformed a series of long-vacant parcels of city-owned land into a lifestyle development integrating retail, commercial, and recreational spaces along with community services and more than 1000 units of affordable, senior, and market-rate housing.
The 202 Broome Street project adds 3205 m2 (34,500 sf) of retail area, 16,258 m2 (175,000 sf) of Class-A office space, and 83 condominium homes, all set to open in 2021.
The 202 Broome building forms its own internal neighborhood. Green roofs, indoor-outdoor terraces, courtyard skylights, and other spaces tie the building's mixed-use functions together. The second floor offers an oasis at Broome Street Gardens, a 836-m2 (9000-sf) landscaped public atrium that connects to a similar space in the adjacent 180 Broome Street via the underground Market Line, set to be New York City's largest public marketplace.
Condominiums are on the sixth through 14th floors, in a slender structure that steps back from the larger base holding office space below.
The 202 Broome Street's design presents a gridded façade in a mix of materials including scalloped Italian terra cotta, light brick, metal, glass, and stone—inspired by the look and feel of the Lower East Side's historic loft buildings. The building's series of landscaped setbacks incorporate a large variety of native plantings.
"202 Broome Street will add a new chapter to the story of this dynamic neighborhood," says Eugene Flotteron, AIA, principal at CetraRuddy. "We drew inspiration from the surrounding tenement-style architecture of masonry and ironwork in order to connect our design to the surrounding urban fabric, while still fitting in with the overall direction of the Essex Crossing Master Plan."