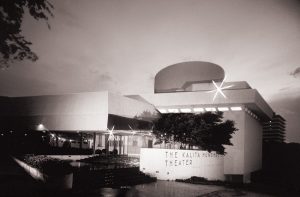 New York-based design studio Diller Scofidio + Renfro will renovate Dallas' famed Kalita Humphreys Theater, originally designed by Frank Lloyd Wright.
The building has been home to the Dallas Theater Center (DTC) since its opening in 1959, and the renovation efforts aim to preserve the theater's distinct architecture while equipping it for a new generation.
Diller Scofidio + Renfro will partner with DTC to create a master plan for the 4-ha (9-acre) Kalita Humphreys site, which will include new theater spaces. In keeping with Wright's organic, nature-inspired vision, the master plan will connect the nearby Katy Trail, Dean Park, and the surrounding neighborhoods to the Kalita Humphreys Campus, making the entire site an accessible public space. Hillwood Urban will be the project manager.
The Kalita Humphreys Theater is unique among Wright's distinguished body of work as the only free-standing theater that was built during his lifetime. Its most notable internal feature is a revolving stage, which exemplifies Wright's organic theory of architecture, and stresses the unification of the building's form and function, the harmony of the structure with its natural setting, and the aesthetically pleasing manipulation of space. Wright also stressed integration with nature, and the theater was built into a limestone bluff overlooking Turtle Creek.
DTC and its partners intend to present a plan to the city's Office of Arts and Culture by the end of this year. The Dallas City Council will be asked to give final approval of the plan.
While no specific decisions have been made on any individual aspect of the project, DTC looks to hear from the public and various stakeholders to inform the design process.