Comparing closer types
With many reasons to use a door closer (see "Why Use Closers," page 14) and an endless variety of building conditions, determining whether to use closer hinges or overhead closers requires professional judgment.
Doorway constraints
It is difficult to install an overhead closer if the top of a door is arched or constrained by a low ceiling or narrow door frame. Similar problems occur with gates and partial height doors where there is no place to anchor an overhead closer. If a doorway is in a corner, an adjacent wall, cabinets, or other surfaces abutting it may interfere with the arms of an overhead door.
Economics
As a general rule, the more parts to be installed, the greater the construction cost. One popular overhead door model requires the installer to handle 47 separate components—many of which are small fasteners—that can be difficult to track in dimly lit construction sites. In comparison, installing closer hinges require no more parts than the ordinary butt hinges used with overhead closers. The number of installation steps goes up when one considers time for drilling holes to install overhead closers and the addition of separate hold-open and door stop devices.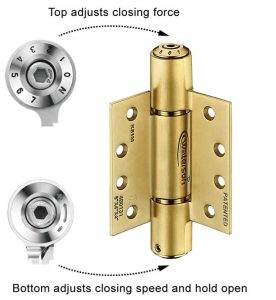 Steel doors and frames require reinforcing to provide secure attachment of overhead closers. Reinforcing installed in the field further increases the number of parts to be handled and complicates inspection of work that will be concealed after installation. Reinforcement installed in the fabricator's shop requires coordination of shop drawings (Consult section 5.2 of Steel Door Institute (SDI) A250.6, Hardware Reinforcing on Standard Steel Doors and Frames. It says, "Doors and frames shall be prepared by the installer in the field for surface applied hardware such as surface closers…").
Alterations
Adding overhead closers to doorways where they were not originally specified may require modifications to existing doors and frames. Closer hinges, on the other hand, can be installed by replacing the original hinges, one at a time, without having to do remedial work to existing doors and frames.
Visual
While overhead closers can be dressed up with handsome covers, they are still a visual intrusion. This may of special concern with dramatic entrances, wood doors with matched veneers, the minimalist lines of glass doors, custom-designed doors, and when trying to preserve the appearance of doors with historic or period detailing.
Maintenance
The oil used in hydraulic closers can leak, staining clothing of people using the doorway and making floors extremely slick and dangerous. "More importantly," writes Matthew T. Orcutt, an authority on overhead closers, "when the oil drains from the [overhead door closer] cylinder, the closer's ability to control the door is lost. If total leakage were to occur, the door swings freely and could lead to injuries as well as costly damage to the door and frame."
While the oil can also leak from a closer hinge that has hybrid mechanical and hydraulic action, the result should not be devastating. There is significantly less oil to leak and the spring in the door continues to provide basic door closing functions.
Another maintenance issue originates from the protruding arms of overhead closers, which can be damaged by heavy use, abuse, or vandalism.
Overhead closers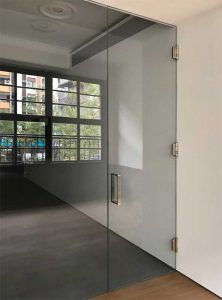 Simply put, overhead closers offer many more options and a wider range of performance than is available from closer hinges. For example, some overhead closers can be adjusted to control back check, slowing the door before it opens fully. Others have a reservoir of force to boost latching speed to power through the final few degrees of closing a door. Others can be opened a full 180 degrees, an opening that may accelerate wear on some closer hinges.
Conclusion
BHMA points out door testing typically takes place under laboratory conditions. In actual use, results vary because of installation, maintenance, and environmental conditions. Actual closer performance is affected by fluctuating ambient conditions such as wind and pressure differentials (Consult the Builders Hardware Manufacturers Association (BHMA) A156.4, Door Controls – Closers).
Closer hinges are frequently specified as a set where each of the closer hinges may have different attributes. It is best to consult with the closer hinge manufacturer or a hardware consultant familiar with the proposed product.
It would be a mistake to assume closer hinges will replace overhead closers in all locations. However, closer hinges have proven their utility for many entrance conditions, and may even prove to be the preferred solution for many ordinary doorways.

Betty Chen, CSI, is senior marketing manager for Waterson Group with responsibility for in the United States and internationally. She can be reached via www.watersonusa.com.

Michael Chusid, RA FCSI, is an authority on building products and a frequent contributor to this magazine. He can be reached at www.chusid.com.