Download our latest e-book on concrete flooring for free
by sadia_badhon | June 1, 2021 9:39 am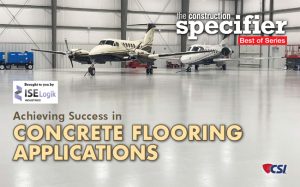 The Construction Specifier has announced the newest volume in its series of free, downloadable e-books—a technical discussion on concrete flooring applications.
It illustrates how moisture can play havoc with design goals and why it is crucial to address all possible sources for excess moisture.
The curated collection of magazine articles also answers questions about the ability of a flooring substrate surface to absorb liquid, and how the coalescence of impermeable floorcovering material and non-porous concrete surface reduces moisture from entering and escaping.
It also highlights why, for many projects, coatings are a capable and often-desired alternative to typical tile and sheet flooring options.
Download the Achieving Success in Concrete Flooring Applications e-book[2] in two different formats—pdf or digital edition—by visiting www.constructionspecifier.com/ebook/iselogik-achieving-success-in-concrete-flooring-applications-e-book[3].
Endnotes:
[Image]: https://www.constructionspecifier.com/wp-content/uploads/2021/05/Opener-29.jpg
e-book: https://www.constructionspecifier.com/tag/e-book/
www.constructionspecifier.com/ebook/iselogik-achieving-success-in-concrete-flooring-applications-e-book: http://www.constructionspecifier.com/ebook/iselogik-achieving-success-in-concrete-flooring-applications-e-book
Source URL: https://www.constructionspecifier.com/download-our-latest-e-book-on-concrete-flooring-for-free/
---