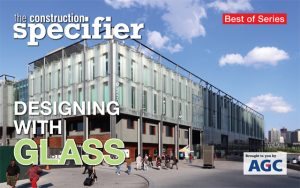 The Construction Specifier has announced the newest volume in its series of free, downloadable e-books—a technical discussion of glass as a building material.
It illustrates the evolving design criteria for large and complex sloped glazing systems that are being increasingly used as creative architectural statements.
The curated collection of magazine articles also analyzes the various types of damage that can occur due to condensation on interior building surfaces.
It highlights recent regulatory developments, such as construction standards established by New York City and several other cities. These laws mandate the use of bird-friendly glass to reduce avian fatalities.
Download the Designing with Glass e-book in two different formats—pdf or digital edition—by visiting www.constructionspecifier.com/ebook/agc-glass-north-america-designing-with-glass-e-book.