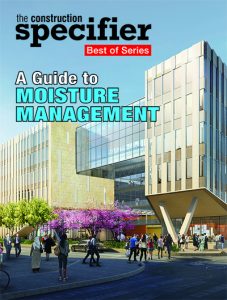 The magazine's series of sponsored e-books continues with a look at how air barriers and waterproofing systems can be employed to create high-performing buildings.
The Construction Specifier has announced the newest volume in its series of free, downloadable e-books—a technical exploration of the different technologies available in the market to waterproof structures with topics ranging from the challenges with traditional dry floodproofing to the role of fluid-applied air barrier systems in meeting building codes and project specifications. The curated collection of magazine articles also includes the different factors to consider when selecting a waterproofing membrane.
Download the "A Guide to Moisture Management" e-book in two different formats—pdf or digital edition—by visiting www.constructionspecifier.com/ebook/georgia-pacific-a-guide-to-moisture-management-e-book.