Download our new e-book on polyiso insulation for free
by nithya_caleb | August 10, 2020 9:57 am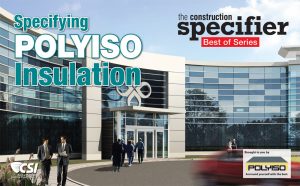 The magazine's series of sponsored e-books continues with an overview of polyisocyanurate (ISO) insulation, and how to incorporate them in a project.
The Construction Specifier has announced the newest volume in its series of free, downloadable e-books—a technical discussion of polyiso insulation. High-density polyisocyanurate cover boards offer comprehensive strength that protects the low-slope commercial roof system from traffic, puncture, and hail damage.
The curated collection of magazine articles also analyzes how the use of continuous insulation (ci) systems on walls is changing the way specifiers, design professionals, and builders look at the building envelope.
It also illustrates, vapor retarder materials like polyiso insulation, when used correctly, can be an effective solution for moisture control.
Download the Specifying Polyiso Insulation e-book in two different formats—pdf or digital edition—by visiting www.constructionspecifier.com/ebook/pima-specifying-polyiso-insulation-e-book[2].
Endnotes:
[Image]: https://www.constructionspecifier.com/wp-content/uploads/2020/08/PIMA.jpg
www.constructionspecifier.com/ebook/pima-specifying-polyiso-insulation-e-book: http://www.constructionspecifier.com/ebook/pima-specifying-polyiso-insulation-e-book
Source URL: https://www.constructionspecifier.com/download-our-new-e-book-on-polyiso-insulation-for-free/
---