Download our new e-book on resilient flooring for free
by jason_cramp | August 16, 2022 11:33 am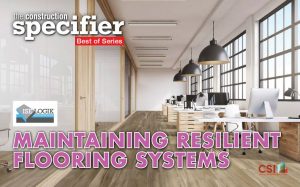 The Construction Specifier has announced the newest volume in its series of free, downloadable e-books—a technical discussion on maintaining resilient flooring systems.
The e-book provides various features on accommodating archaic concrete flooring systems, best practices for specifying resinous flooring systems, and sustainability and performance considerations.
The curated collection of magazine articles also highlights how to recognize archaic concrete floor systems prior to attempting any repairs, alterations, or construction, and avoid inadvertently damaging the integrity of a structure.
It explains why it is important to take all environmental factors and design choices into consideration before choosing a particular type of flooring as resinous flooring is not a one-size-fits-all product.
And outlines how material science, composition, and installation can affect the sustainability and performance of a flooring application.
Download the Maintaining Resilient Flooring Systems e-book[2] in two different formats—digital edition or PDF—by visiting www.constructionspecifier.com/ebook/iselogik-maintaining-resilient-flooring-systems-e-book[3].
Endnotes:
[Image]: https://www.constructionspecifier.com/wp-content/uploads/2022/08/AA_ISE_Ebook.jpg
e-book: https://www.constructionspecifier.com/tag/e-book/
www.constructionspecifier.com/ebook/iselogik-maintaining-resilient-flooring-systems-e-book: https://www.constructionspecifier.com/ebook/iselogik-maintaining-resilient-flooring-systems-e-book/
Source URL: https://www.constructionspecifier.com/download-our-new-e-book-on-resilient-flooring/
---