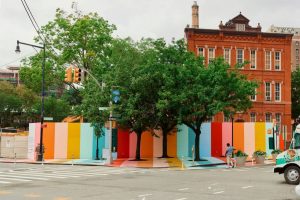 Architect and developer Alloy partnered with design studio Taller KEN to unveil Bright Stripes, an installation in Downtown Brooklyn that aims to enliven a construction site with simple artistic means.
Designed under the direction of Greg Melitonov of Taller KEN, Bright Stripes provides a lively atmosphere and necessary infrastructure, such as lighting and seating, to ensure the installation remains in use by citizens.
This flexible approach will allow for various groups to continue activating the plaza throughout the first phase of construction. The appearance of these colorful graphics change throughout the day based on natural light exposure.
The addition of light-emitting diode (LED) tubes not only adds to the aesthetic of the installation, but it benefits the community by providing additional light throughout the construction area. This strategy surrounding an activation reflects the movement and activity of residents while facilitating social interactions between them. For seating, folding chairs were used to be easily moved around as desired, which encourages planned and spontaneous community gatherings at the Alloy Block.
The range of colors in the installation speaks to the diverse and vibrant group that occupies downtown Brooklyn, as well as those who will occupy the Alloy Block once complete. The development will be made up of five buildings including residential, commercial, retail, educational, and cultural spaces.
Historic buildings are being preserved and restored, and the city's first all-electric skyscraper will be powered by renewable resources. The first phase of construction at the Alloy Block represents the all-electric tower and New York City's first passive house schools.
Local partners include the Roulette Intermedium, the Mark Morris Dance Group, the Recovery House of Worship and the Khalil Gibran International Academy, who will have a location at the Alloy Block. These groups were included in the review of the design proposal and participated in an event that welcomed Bright Strips to the downtown area. The block-party style was complete with performances by teachers and students from the Brooklyn Music School.
The Department of Transportation's Street Seats program permitted the creation of a public space component within Temple Square in collaboration with the Department of Cultural Affairs and City Canvas.
Street Seats' mission is to turn underutilized street space into areas of public use, and the bright color blocking applied to the Alloy Block welcomes community engagement. Every element of the installation has been thoughtfully incorporated by Taller KEN to reflect the needs of the community through the means of artistic expression.