More on duplex stainless steel and bridges
May 7, 2015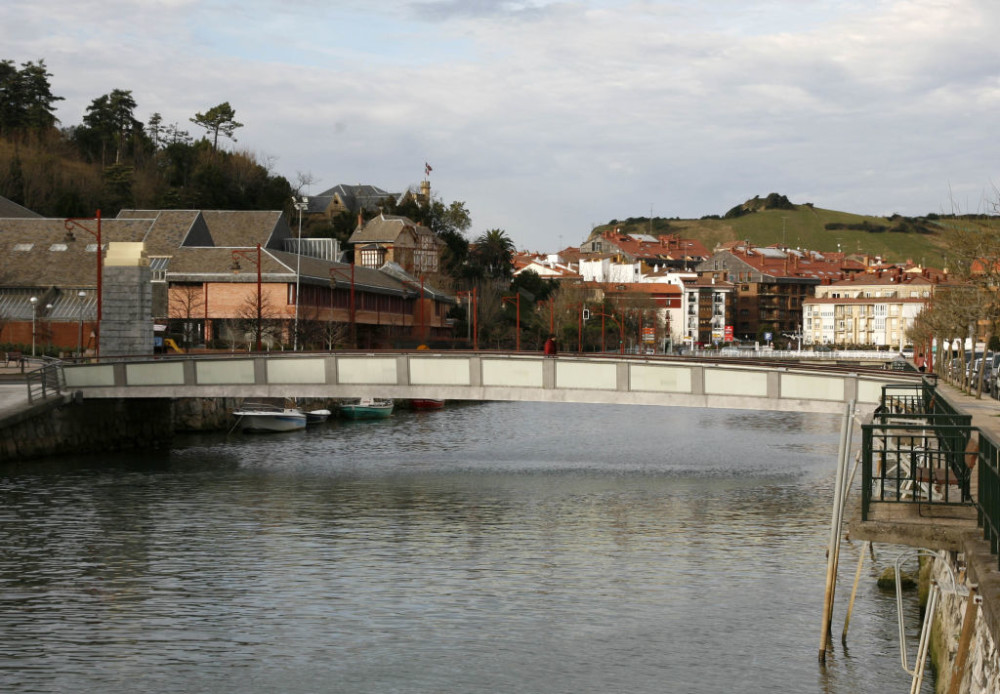 by Catherine Houska, CSI

In the May 2015 issue of The Construction Specifier, Catherine Houska, CSI, discussed[2] how duplex stainless steels are being specified for numerous structural applications. This complementary web piece looks at a few additional projects from around the world that make use of this versatile material's attributes.
Composite footbridges
Exceptionally lightweight smaller footbridges[3] using high-strength duplex stainless steel structural frame sections to support fiberglass panel decks and side panels were pioneered by the engineering design firm Pedelta. They are light enough to be easily lifted in place by cranes.
The small Basque city of Zumaia is located on the Bay of Biscay in Spain. Rivers slice through this small city, so a footbridge to improve accessibility was a crucial part of an urban development program. The bridge, pictured above, had to be able to withstand Zumaia's maritime climate, achieve the desired 120-year service life, and be lightweight. Completed in November 2008, the bridge design combines duplex 2205 stainless steel and fiberglass. Substantial steel section thickness and weight reduction was obtained relative to traditional materials.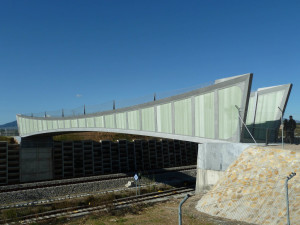 A more recent Spanish bridge in Vilafant (at left) provides a pedestrian crossing over high-speed and traditional rail tracks. It was lifted into place by crane in 2011 without disturbing rail service. Since the location was coastal, but not immediately adjoining salt water, UNS S32101 was specified.
Pedestrian arch bridges
The 2006 Celtic Gateway footbridge is a dramatic structure linking the center of the Welsh town of Holyhead with the inner harbor's ferry terminal and railway station. Two tubular load-bearing arches are the dominant visual feature. All the structural components are duplex 2304 stainless steel.
Another example is the San Fruitos Bridge (2009) in Spain (below), which crosses a highway to connect residential and a commercial areas.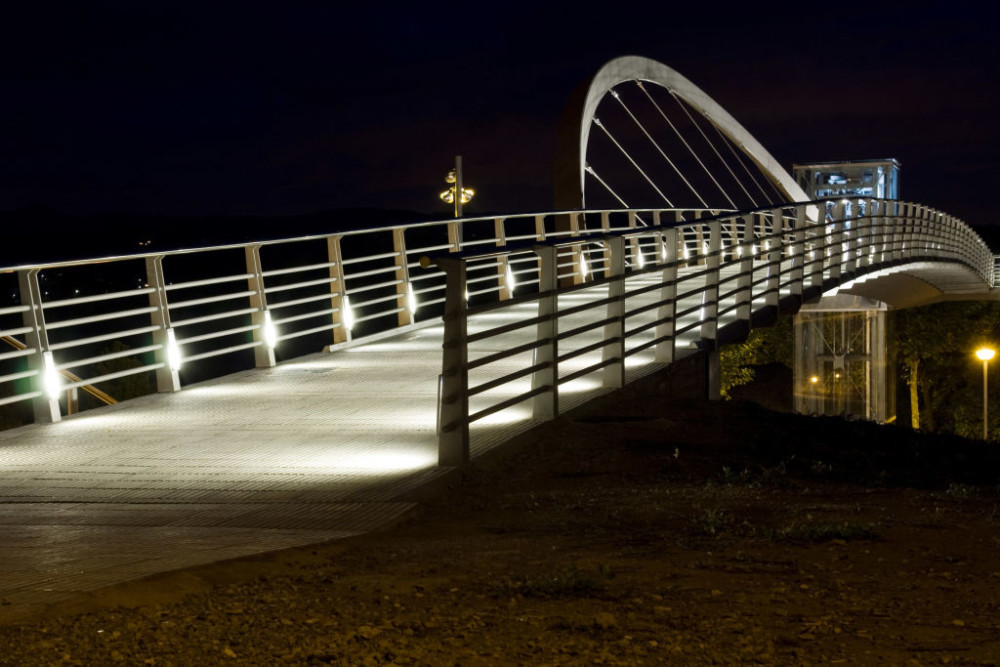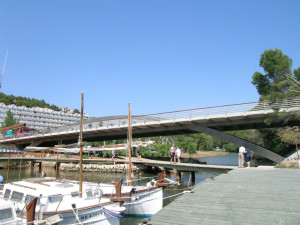 Vehicular and rail bridges
Structural engineering firms have also been using welded stainless steel plate fabrications in vehicular and railroad bridges as primary structural components. The first was Pedelta's Cala Galdana Bridge[7] in Menorca, Spain (right), which used duplex 2205 stainless steel structural components. The 2005 project replaced a mild steel-reinforced concrete bridge, which had severely deteriorated in the marine atmosphere.
The first stainless railway bridge was the Añorga Bridge in San Sebastian, Spain, which used a UNS 32101 truss structure and replaces a carbon steel structure that had required intensive maintenance over its lifespan. Other vehicular bridges that have used large stainless steel structural components include Arup's 2009 Stonecutter's Bridge[8] in Hong Kong, which used 2205 plate on the exterior of the bridge pylons.
Many of these bridges were designed using EuroCode 3[9], which is overly conservative based on recent research. Design firm Ove Arup & Partners conducted a study for Outokumpu[10]—"Outokumpu Stainless Steel Composite Bridge Study: Life Cycle Cost for Maintenance Study" (2012) and "Outokumpu Stainless Steel Composite Bridge Study: Study Report" (2011)—comparing 355 N/mm2 (51 ksi) minimum yield carbon and weathering steel with various stainless steels. The comparison used a two-span 28-m (92-ft) long bridge carrying a two-lane highway. EuroCode 3 was used for the initial analysis; then, an optimized design was developed using research incorporated into American Institute of Steel Construction (AISC) Steel Design Guide 27, Structural Stainless Steel.
The Arup study found duplexes to be the most cost-effective stainless steel alloy family for bridge design. (UNS S32101 and S32205 were included in the study.) With design optimization using stainless steel, 12 percent less tonnage was required then carbon or weathering steel. The initial cost of the lean duplex bridge was only 7.4 percent greater than that of the carbon steel bridge and five percent more than weathering steel.
A full lifecycle cost analysis was done based on 60 years of service. The model assumed maintenance repainting of the carbon steel every 10 years without removal of previous paint layers. Several scenarios were considered and a 30 to 40 percent cost savings could be achieved over 60 years by using duplex stainless steel.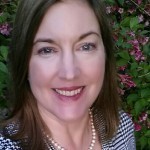 [11]Catherine Houska, CSI, is a senior development manager at TMR Consulting. She is a metallurgical engineering consultant specializing in architectural metal specification, restoration, and failure analysis. Houska was a member of the steering committee for American Institute of Steel Construction (AISC) Steel Design Guide 27, Structural Stainless Steel, and has authored more than 160 publications, including several features for The Construction Specifier. She can be reached via e-mail at chouska@tmr-inc.com[12].
Endnotes:
[Image]: http://www.constructionspecifier.com/wp-content/uploads/2015/05/2Zumaia-Footbridge-c-Ricardo-Ferraz2.jpg
discussed: http://www.constructionspecifier.com/duplex-stainless-steel-revolutionizes-structural-design
Exceptionally lightweight smaller footbridges: http://www.ingentaconnect.com/content/iabse/sei/2002/00000012/00000002/art00007
[Image]: http://www.constructionspecifier.com/wp-content/uploads/2015/05/2Vilafant-Footbridge-c-Lara-Pellegrini2.jpg
[Image]: http://www.constructionspecifier.com/wp-content/uploads/2015/05/2Sant-Fruitos-Footbridge-c-Jasper-Hermsen.jpg
[Image]: http://www.constructionspecifier.com/wp-content/uploads/2015/05/Cala-Galdana-Bridge-c-Juan-Sobrino.jpg
Cala Galdana Bridge: http://www.worldstainless.org/Files/issf/non-image-files/PDF/Menorca_Bridge_Case_Study-2.pdf
Stonecutter's Bridge: http://www.worldstainless.org/Files/issf/non-image-files/PDF/Stonecutters_Bridge_Case_Study-2.pdf
EuroCode 3: http://shop.bsigroup.com/Browse-By-Subject/Eurocodes/Descriptions-of-Eurocodes/Eurocode-3/
Outokumpu: http://www.outokumpu.com/en/Pages/default.aspx
[Image]: http://www.constructionspecifier.com/wp-content/uploads/2015/05/2014Houska-photo-150x150.jpg
chouska@tmr-inc.com: mailto:chouska@tmr-inc.com
Source URL: https://www.constructionspecifier.com/duplex-bridges/
---