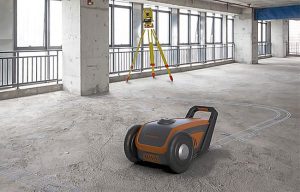 Dusty Robotics, developer of robot-powered automation for the construction industry, has closed a $5 million seed round. The financing brings Dusty's total funding to date to $7.2 million.
Founded in 2018 by robotics entrepreneurs Tessa Lau and Philipp Herget, Dusty builds automation tools to help accelerate the digital transformation of the commercial construction industry.
Dusty's first product, FieldPrinter, is an autonomous mobile robot that prints layout plans—used to show crews where to build walls and other fixtures—directly onto the floors of jobsites, completing the process 10 times faster and more accurately than traditional methods. Using layouts created in building information modeling (BIM) software, FieldPrinter streamlines the process of transferring layout plans into the field and enables crews to work more quickly and accurately, reducing errors and speeding up projects.
FieldPrinter can be used by contractors and subcontractors, particularly virtual design and construction (VDC) companies that manage the BIM coordination process and perform layout based on the BIM.
Dusty plans a wide-scale commercial launch of FieldPrinter this year to bring layout automation to dozens of construction sites. The company will offer FieldPrinter as a robot-as-a-service model with pricing based on the size and scope of the building project.