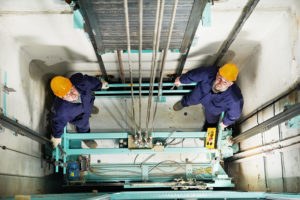 Last month, the National Elevator Industry (NEII) announced several new hires and promotions as it completed a major restructuring. NEII promotes safety, innovation, and performance in North America's building transportation industry. The additional staff members will deepen the organization's reach and ability to be the industry's definitive voice.
Kevin L. Brinkman was promoted to vice president of codes and safety. Brinkman, who has been in the elevator and lift industry for more than 25 years, will continue to lead the industry in developing and adopting effective codes to protect the safety of workers and the riding public.
Amy J. Blankenbiller is now vice president of government affairs. Blankenbiller will oversee the expanding government affairs team and is responsible for leading the association's legislative and regulatory efforts to advance safety and reliability.
To add to the advocacy firepower, Dylan Isenberg joined as NEII's new director of government affairs. Isenberg came to NEII from Building Owners and Managers Association International (BOMA), where he worked for two years as the association's advocacy manager.
"For the past few decades, NEII—with just a handful of consultants and no full-time employees—has been a highly regarded industry advocate. Over the past year, we have grown to a staff of six with over 90 years of combined experience in the areas of advocacy, codes development, and association management expertise," says Karen Penafiel, executive director of NEII. "We are excited to see what our new team will accomplish as we continue working to advance elevator and escalator safety across the country."
The newest addition to the team is Nicole Van Velzen, director of communications. Van Velzen will lead NEII's efforts to communicate the safety, reliability, and technology advancements underway in the industry.
Megan Hensley rounds out the team and provides research support to the codes and safety, government affairs, and communications efforts as the association's project manager. Hensley draws from a diverse background in education, coaching, and event planning to serve as a strong team member, helping NEII operate efficiently and effectively.