A comprehensive solution
Architects, constructors, and building owners today face many complex challenges, including the need to design in conformance with these rapidly changing energy codes. All parties are challenged to cost-effectively meet the latest mandates while maintaining aesthetic diversity in both new and retrofit construction.
By far, the most effective way to address these building enclosure challenges is to incorporate ci into the exterior wall assembly. According to the previously cited ORNL study, the use of exterior ci can translate into a 20 to 30 percent improvement in envelope energy efficiency.
The only cladding included in the study that incorporated an integral ci component was EIFS. With its higher performing, uninterrupted insulation, the EIFS exceeded the baseline wall assembly, testing at 84 percent more energy efficient than a non-ci insulated option. That is not to say that most of the other walls tested cannot be greatly enhanced by the addition of a ci component.
Extruded polystyrene (XPS) and polyisocyanurate (polyiso) boards behind brick veneer and stone masonry are also common additions. Multiple permutations of continuously insulated stucco have been introduced. However there are significant ramifications to the modification of these assemblies.
Since the heavier claddings are cantilevered farther off the structural line by the addition of ci, they require a corresponding increase in structural steel, as well as additional foundation support.
As we move toward the goal of net-zero energy consumption, the codes require additional insulation exacerbating these difficulties. Adding more than 76.2 mm (3 in.) of ci behind a brick or stone veneer may require re-engineering of the structural elements, driving up material and labor costs, as well as time spent onsite.
Another hotly debated issue arises as modifications are made to the myriad exterior wall assemblies and claddings. The inclusion of foam plastic insulation components such as EPS, XPS, SPF, and polyisocyanurates subject the assembly to the stringent requirements of the National Fire Protection Association (NFPA) 285, Approval for Wall Assemblies Using Foam Plastic Insulation. This test requires the specified and installed assembly exactly replicate the tested assembly. Subject to interpretation by local code officials, the smallest variation (including adaptations to accommodate the addition of now-required ci), may violate the standard and subject the manufacturer(s), designers, engineers, and/or owners to additional delays and costs for retesting of the modified assembly.
One of the simplest and most cost-effective ways to add ci to the exterior of a traditional wall assembly is through the use of EIFS. A typical assembly with drainage is composed of the following layers or components:
fluid-applied flashing;
a continuous fluid-applied air and water-resistive barrier;
vertically notch-troweled adhesive/drainage plane; and
exterior ci (either EPS or XPS), fiberglass mesh-reinforced base coat, and integrally colored textured finish.
EIFS are non-structural in nature and offer ci as an integral component of the system, which may be adhesively attached to an underlying wall assembly minimizing thermal bridging. During construction and throughout the lifetime of the building, these assemblies can deliver measurable benefits and significant return on investment (ROI). They can be:
lightweight compared to traditional claddings, requiring less concrete and structural steel to support the weight of the wall and reducing material costs;
installed by a single, trained subcontractor, reducing construction time and labor costs;
engineered, tested, and fully warranted by the manufacturer; and
require minimal maintenance over the lifetime of the building, reducing associated costs.
From an aesthetic perspective, EIFS also offer unlimited architectural design flexibility. In addition to a variety of plaster-like finishes, EIFS can also resemble brick, limestone, granite, and metal. Shapes and reveals can also be customized to complement any architectural style.
Additionally, the material can be a contributing factor to Leadership in Energy and Environmental Design (LEED) credits in categories such as:
Materials and Resources (MR): Credit 1.1, Building Reuse, Credit 2, Construction Waste Management, Credit 4, Recycled Content, and Credit 5, Regional Materials;
Indoor Environmental Quality (IEQ): Credit 7.1, Thermal Comfort: Design; and
Energy and Atmosphere (EA): Credit 1, Optimized Energy Performance.
Conclusion
As energy becomes dearer, the building energy codes will continue to become more stringent. Knowledge of the evolving requirements will be essential to all parties involved in the construction process. The use of EIFS can meet the codes, greatly reduce the complexity of the exterior wall component of many projects, and save time, money, and considerable scheduling challenges along the way.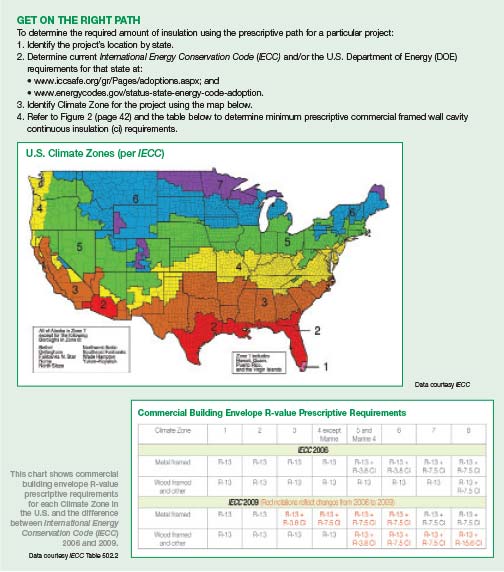 J.W. Mollohan, CCPR, CEP, CSI, has 30 years of experience in the design and construction industry, and is currently a strategic markets manager at Dryvit Systems Inc. He is a member of the Leadership Team of the Kansas City Building Enclosure Council (BEC), immediate past-president of the Kansas City Chapter of the Construction Specifications Institute (CSI) and chair of CSI's national membership committee. Mollohan can be reached at jw.mollohan@dryvit.com.